There's nothing that says weekend breakfast more than delicious fluffy pancakes, especially on lazy Sunday mornings!
I always turn to my trusted and easy buttermilk pancake recipe, but what are the best toppings to serve? Read on for 12 of the best side dishes to serve with pancakes!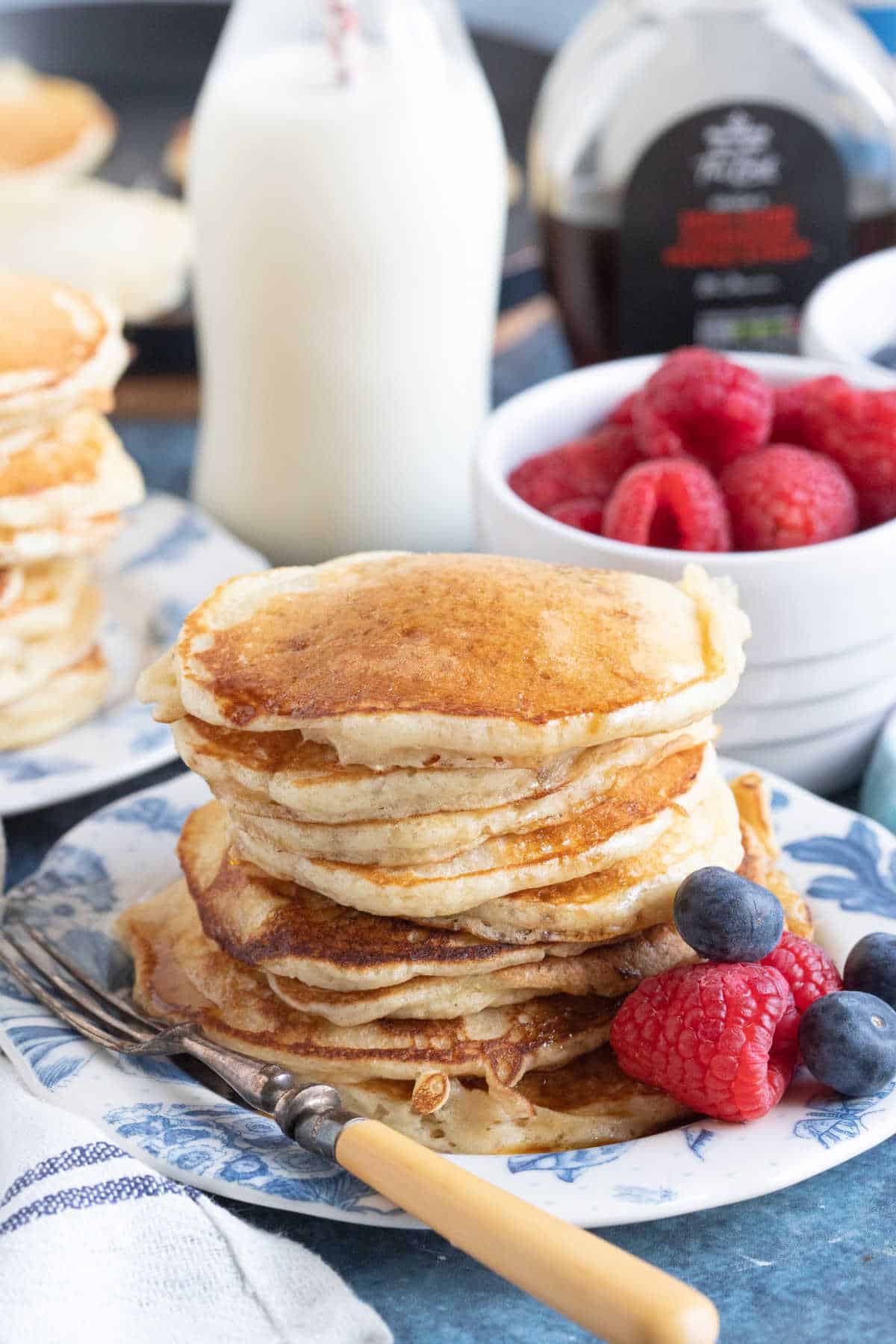 Whether it's for a special occasion, pancake day aka Shrove Tuesday (when you're allowed to eat pancakes for main course!), or just a lazy weekend breakfast, serving sweet pancakes for your family always gets you in their good books!
I use buttermilk in my usual pancake batter to ensure my pancakes are light and fluffy, but sometimes I serve thin crepes with just lemon juice and sugar if I want something a bit more simple.
Jump to:
Best Pancake Recipes
Before we discuss what to put on top of your pancakes, I'd first like to share my three favourite pancake recipes!
Easy Buttermilk Pancakes (UK weight measures)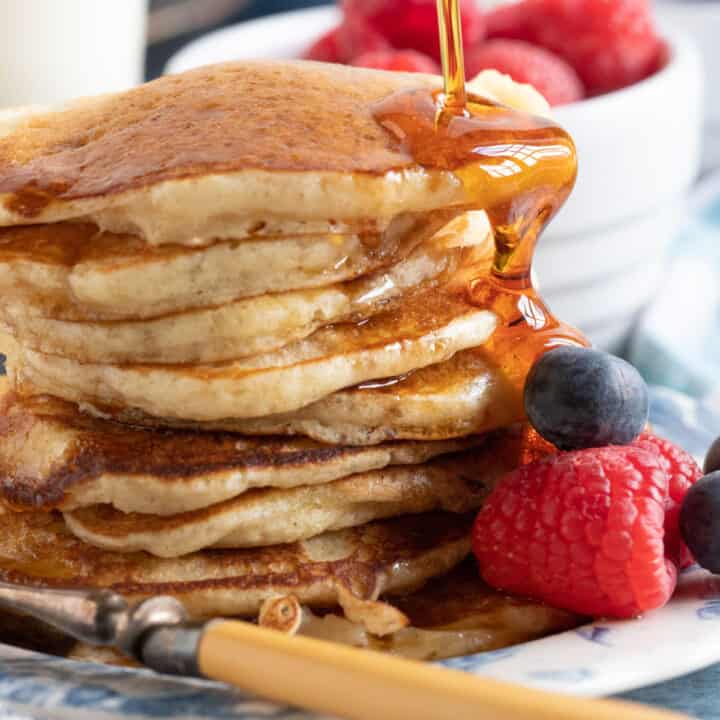 An easy buttermilk pancakes recipe that produces the lightest, softest, fluffiest pancakes, with crisp golden edges!
Calories per serving =>
414
Easy Buttermilk Pancakes
Scotch Pancakes (Drop Scones)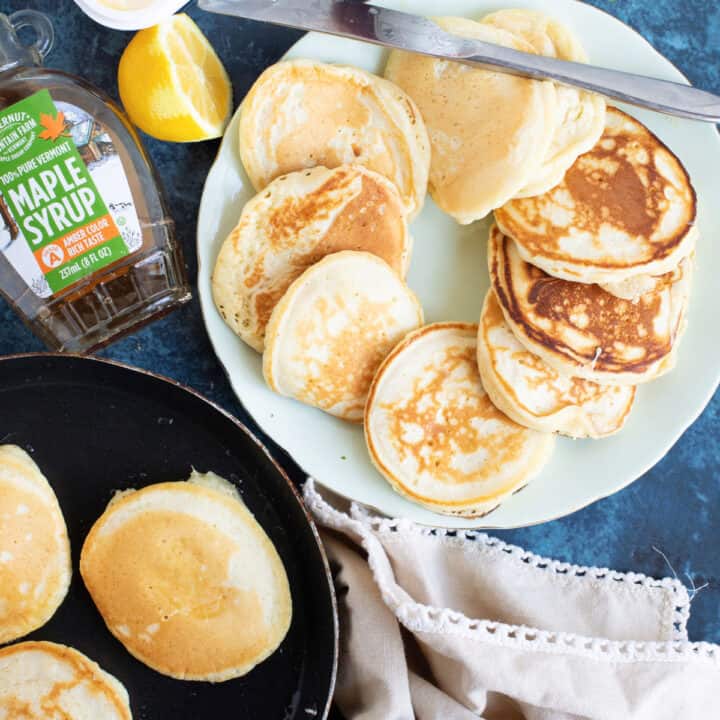 Scotch pancakes (also known as drop scones) are fluffy little pancakes made in a frying pan or traditional girdle. Much easier to make than traditional crêpe style pancakes, scotch pancakes are perfect for Shrove Tuesday, or any day of the week for that matter!
Calories per serving =>
79
Scotch Pancakes
French Lemon Crêpes (Step by Step) - Emma Duckworth Bakes
Whip up a batch of these classic French Lemon Crêpes and serve them alongside a sweet lemon syrup and fruity Wild Blueberry Compote.
French Lemon Crêpes
I also have a soft spot for almond milk pancakes and cornmeal pancakes too!
FAQs on Pancakes
What is the difference between pancakes and scotch pancakes
Scotch pancakes are slightly sweeter than American-style pancakes, with a small amount of sugar in the batter mixture. In contrast, American pancakes generally contain fat as part of the batter mixture, usually melted butter, whereas scotch pancakes do not.
Where did the tradition of making pancakes come from?
The tradition of making pancakes came about to use up all the 'forbidden' foods before Lent in order to avoid spoiling and wasting food.
Does pancake batter need to rest?
If you can allow the pancake batter to rest for at least 5 minutes (up to 30 minutes if you have time) it will relax the gluten and ensure you get those fluffy, soft pancakes you've been dreaming of!
How long should pancakes cook on each side?
Heat a frying pan on a medium heat and lightly grease with oil or butter. Pour the batter to form pancakes of whatever size you like. Cook on the first side until small bubbles form on top (it should take between two and three minutes), then flip and cook on other side for between one and two minutes.
What to serve with pancakes
Some of the best pancake toppings!
Golden Syrup or Maple Syrup
Lemon Juice
White or Brown Sugar
Chocolate Chips
Peanut Butter
Fresh Berries
Banana Slices
Greek Yogurt
Fruit Compote
Blueberry Syrup
Sour Cream
Fresh Blueberries
Strawberry Syrup
Orange Zest
Dulce de leche
Ice Cream
Toffee Sauce
Fruit Curds
12 Pancake Topping Recipes
Easy Mixed Berry Compote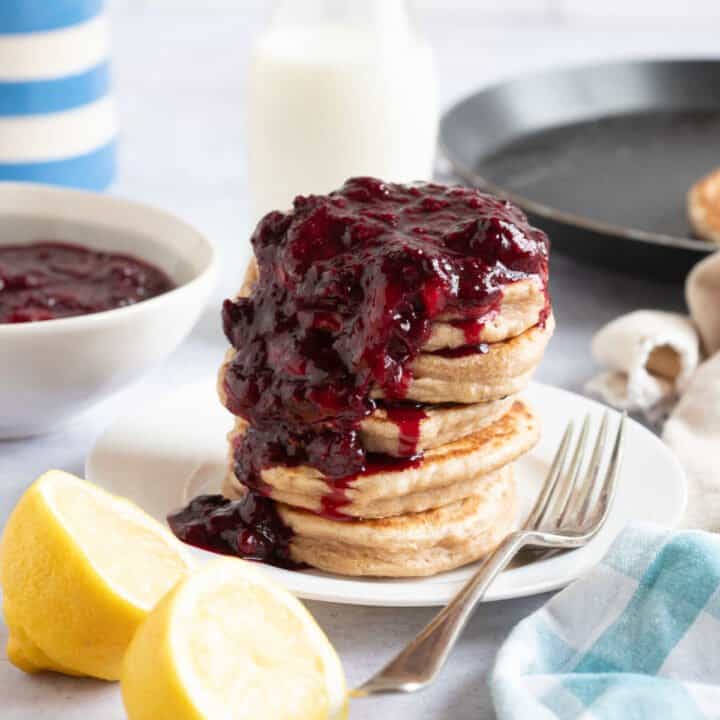 An easy mixed berry compote recipe made with three simple ingredients (including a bag of frozen mixed berries!).
Calories per serving =>
61
Easy Mixed Berry Compote
Easy Blueberry Compote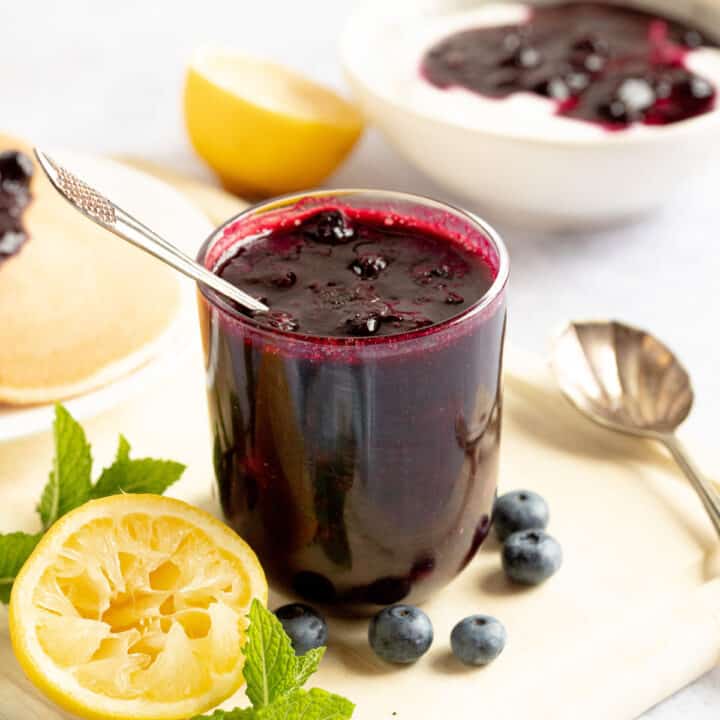 An easy 3-ingredient blueberry compote recipe that can be made with fresh or frozen blueberries.
Calories per serving =>
39
Easy Blueberry Compote
Stewed Rhubarb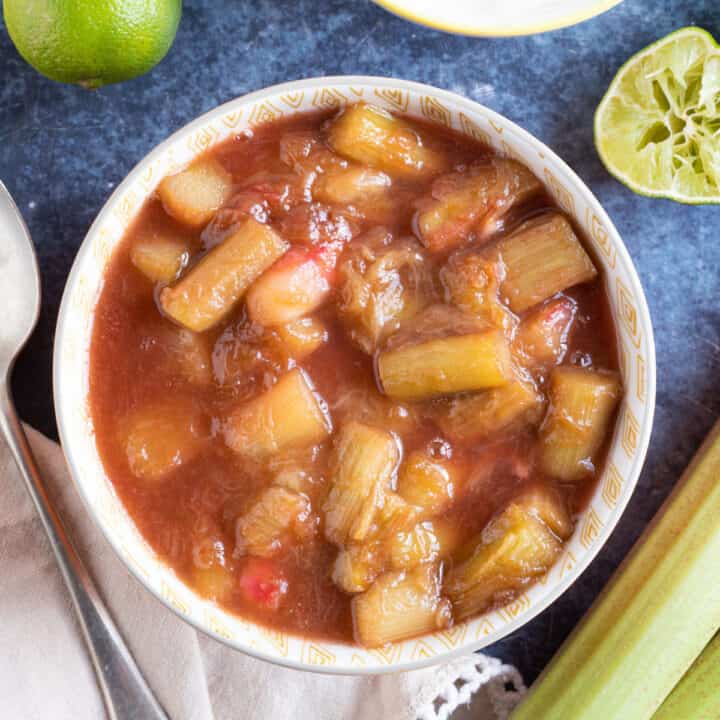 A quick and easy stewed rhubarb recipe flavoured with warming ginger and zesty lime juice.
Calories per serving =>
111
Stewed Rhubarb
Microwave Lemon Curd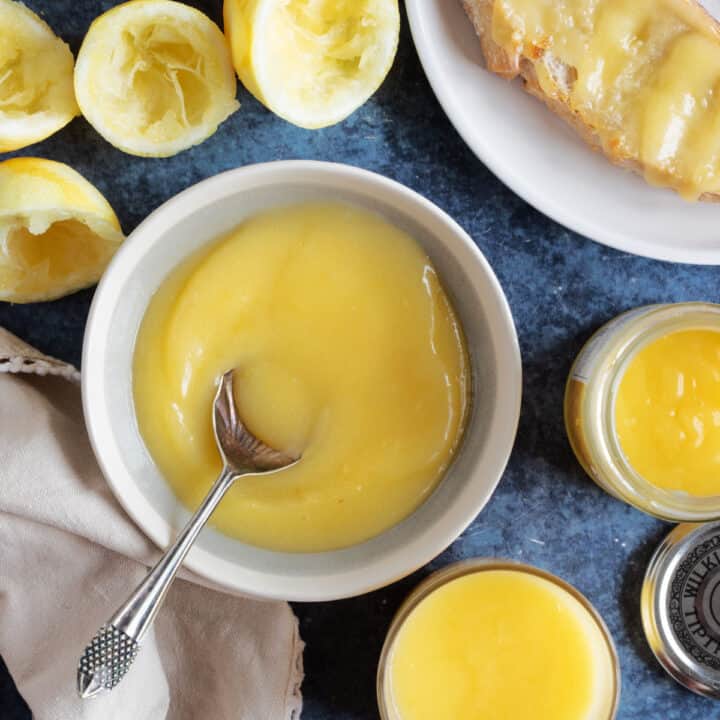 An easy microwave lemon curd recipe made in under 5 minutes!
Calories per serving =>
90
Microwave Lemon Curd
No Churn Honeycomb Ice Cream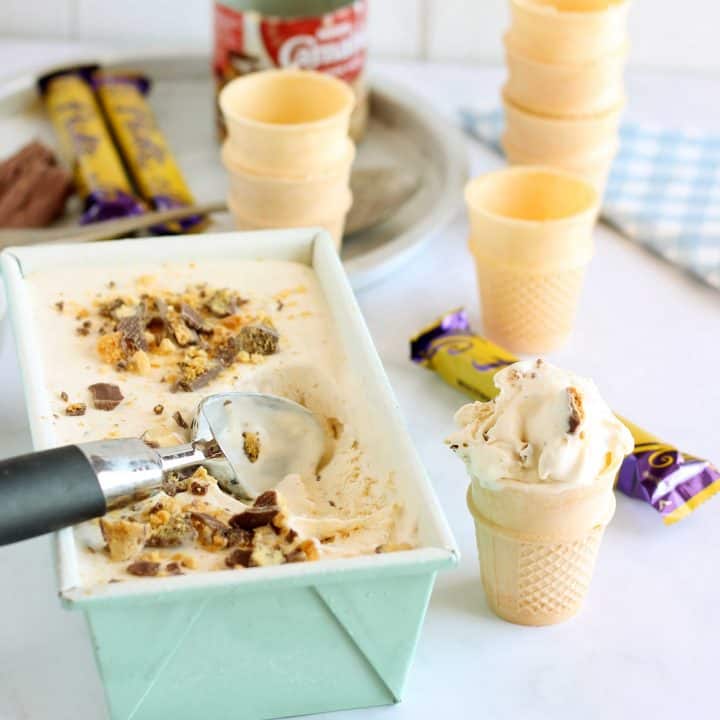 An easy no-churn honeycomb ice cream recipe made with Cadbury Crunchie Bars, double cream, and condensed milk. All you need is an electric whisk and loaf tin to enjoy this summer-time treat.
Calories per serving =>
462
No Churn Honeycomb Ice Cream
Blackcurrant Coulis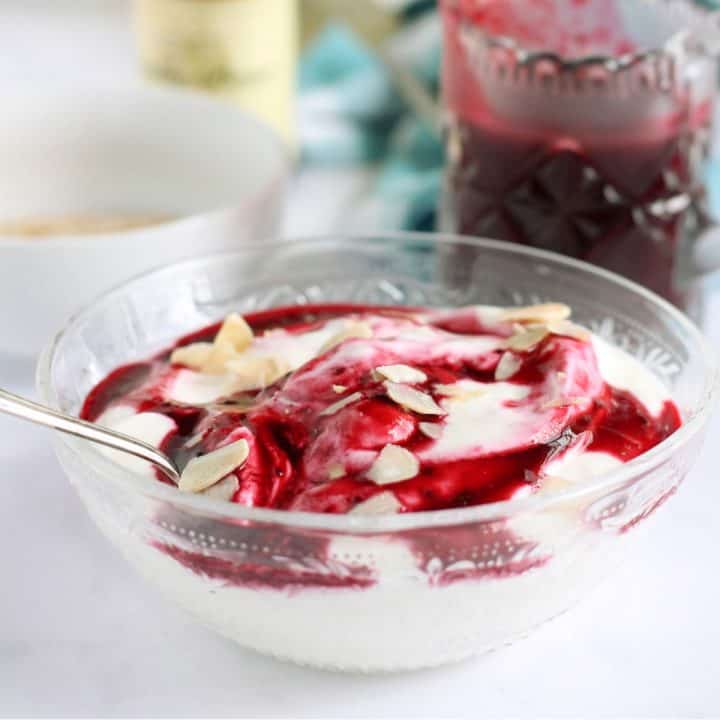 An easy, 3 ingredient, blackcurrant coulis recipe. Great for using up a glut of blackcurrants from your garden. The tart, fruity coulis is delicious stirred through yogurt, spooned over ice-cream or served with a plain vanilla cheesecake.
Calories per serving =>
36
Blackcurrant Coulis
Easy Strawberry Coulis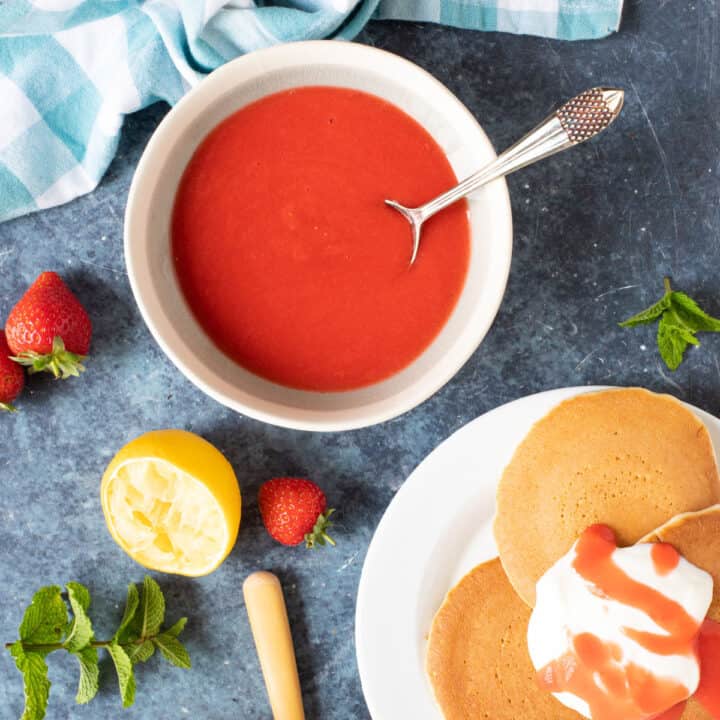 An easy strawberry coulis recipe that can be made with fresh or frozen strawberries.
Calories per serving =>
40
Easy Strawberry Coulis
Easy Stewed Plums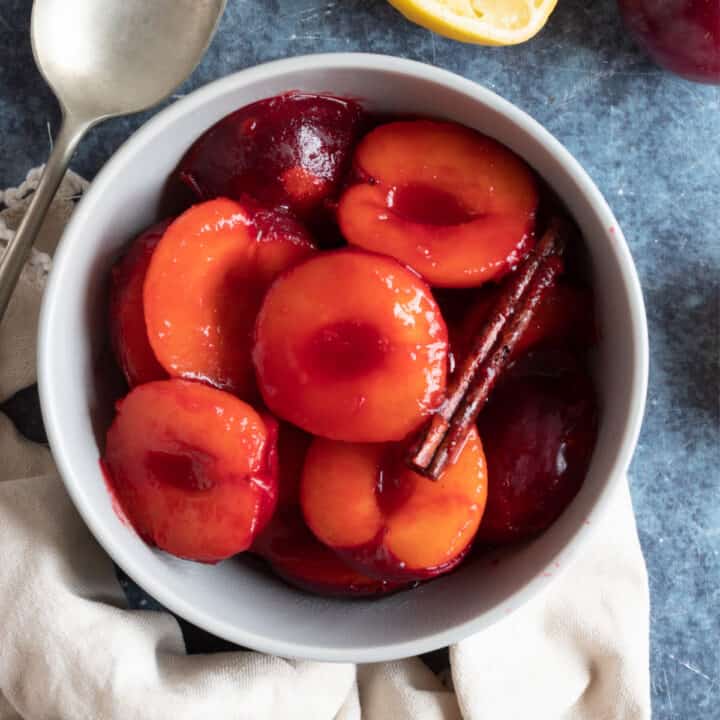 Easy stewed plums flavoured with warming cinnamon and lemon. Perfect for breakfast or dessert.
Calories per serving =>
101
Easy Stewed Plums
Cinnamon-Spiced Stewed Apples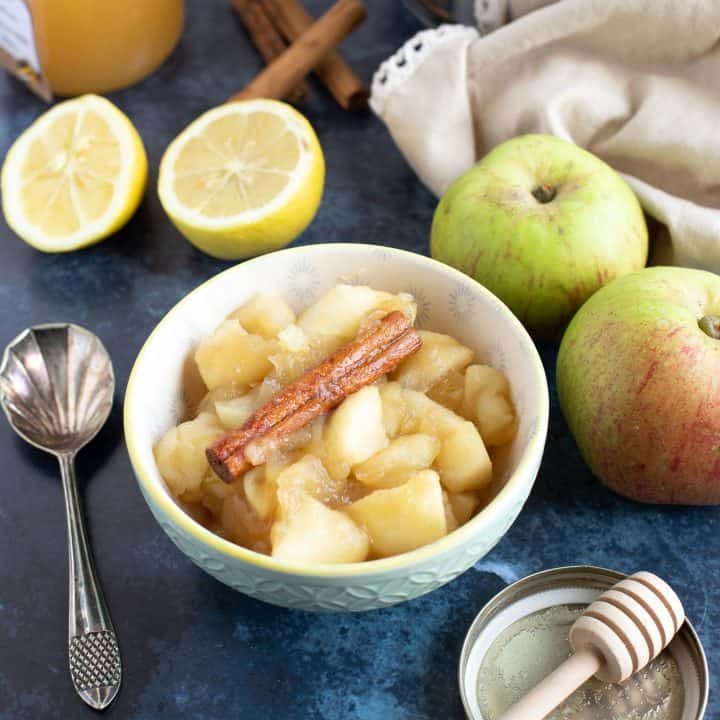 These cinnamon-spiced stewed apples are super easy to make and can be used in so many different ways. Apart from the usual crumbles and pies, they can also be used in muffins, loaf cakes, chutney, and even served as a quick dessert with ice-cream or creamy custard!
Calories per serving =>
122
Stewed Apples
Strawberry Compote (Strawberry Sauce) - Recipes From a Pantry
Strawberry Compote is easy to make on the stove or Instant Pot with 4 simple ingredients for a fresh strawberry sauce, mix-in, or spread.
Strawberry Compote
Maple Pan-Fried Bananas - Veggie Desserts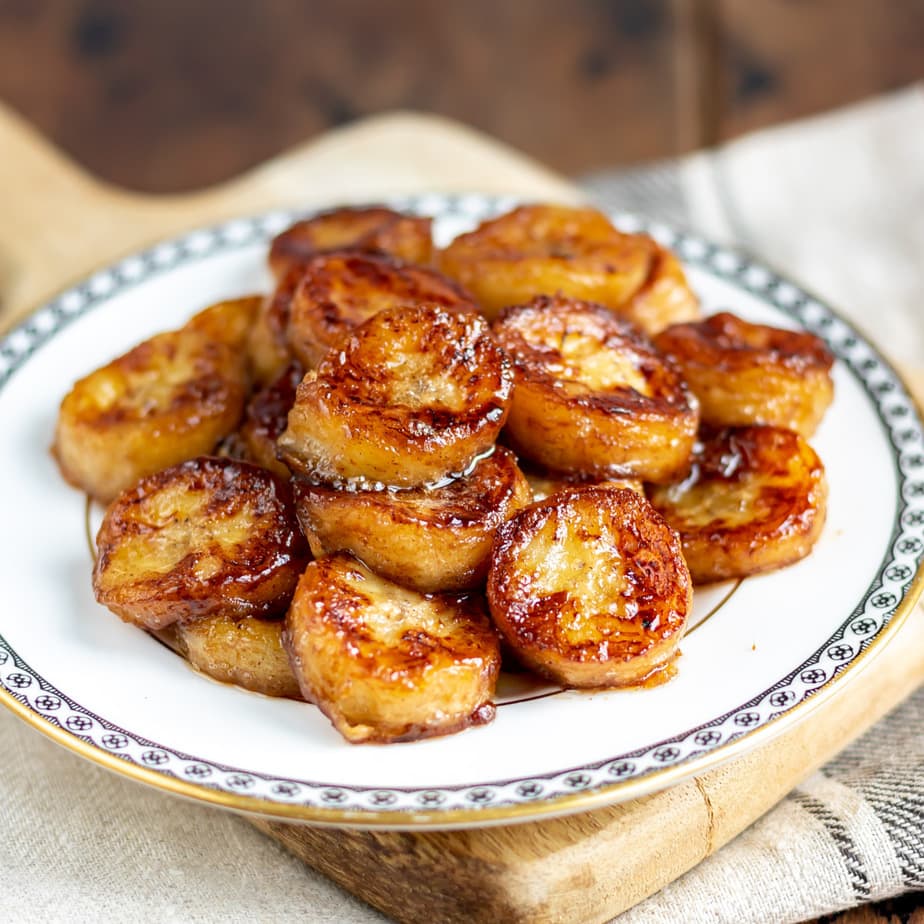 Pan Fried Bananas with maple and cinnamon are a tasty, simple topping for ice cream, yogurt, oatmeal, pancakes and more! Ready in 5 minutes.
Maple Pan-Fried Bananas
Creamy Vegan Biscoff Ice Cream (no churn)
An easy recipe for the most creamy vegan Biscoff ice cream. It's quick and easy to make and no-churn, so you don't need an ice cream maker.
Vegan Biscoff Ice Cream
What toppings do you serve on your pancake boards?
If I'm feeling in a savoury mood, bacon or sausages also go really well on pancakes!