Easy cinnamon stewed apples recipe made with tart Bramley apples and flavoured with warming cinnamon spice.
As well as crumbles and pies, stewed apples can be used in muffins, flapjacks, cakes, and chutneys. They can be also spooned onto pancakes for breakfast, and even served as a quick dessert with ice cream or custard! You might also like my slow cooker stewed apples recipe.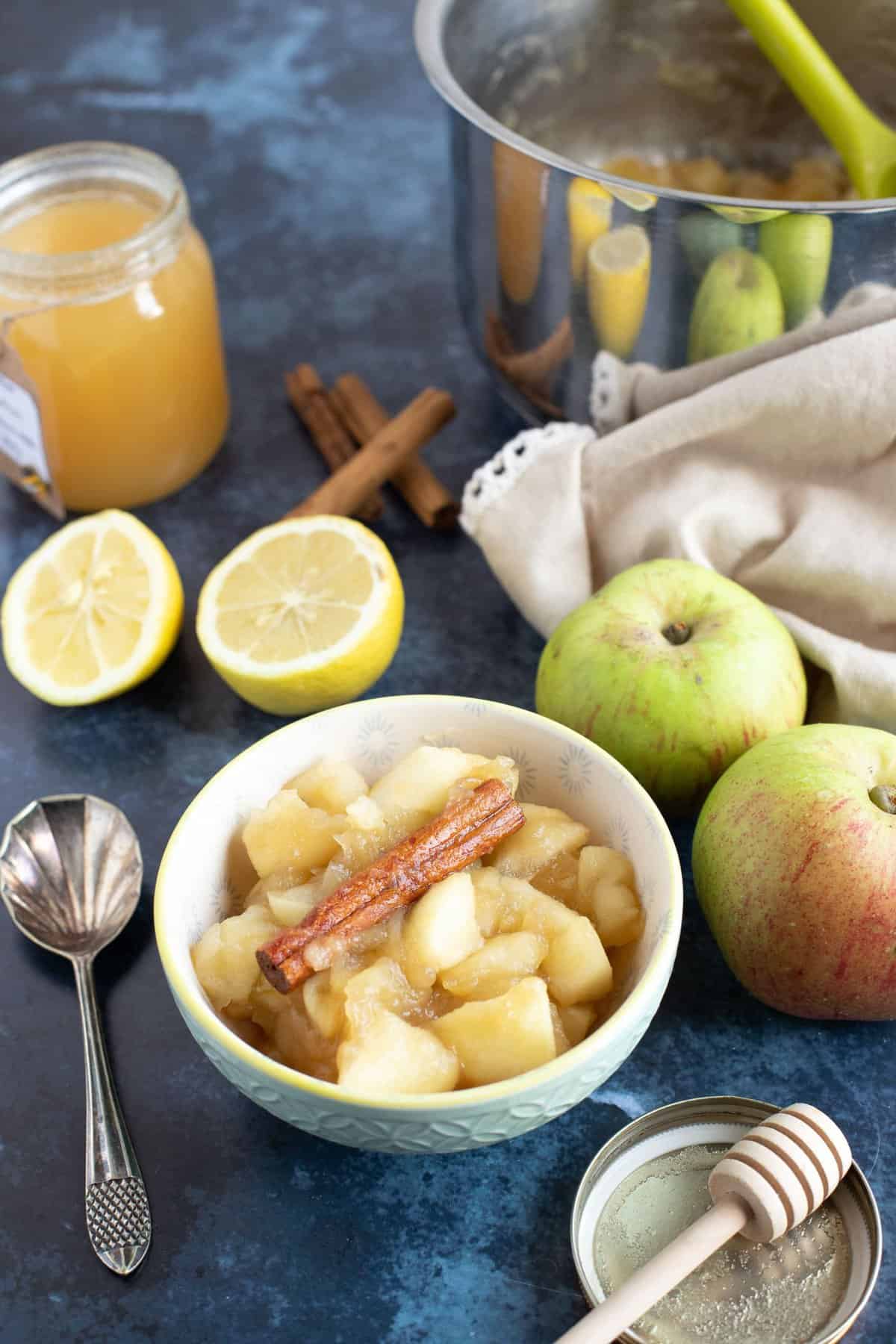 One of my favourite things to do during the Autumn months is to stew apples from my large Bramley apple tree in the garden.
I enjoy preparing large batches and freezing them in portions, ensuring that we always have easy access to delicious stewed apple crumble or apple pie whenever my family craves them.
👩‍🍳 Don't forget to check out my stewed rhubarb and stewed plum recipes too!
Jump to:
✔️ Why should you try it?
Stewed apple is a classic British comfort food. The gentle cooking process brings out the natural sweetness of the apples, making them incredibly tasty and satisfying.
They can be enjoyed in various ways. You can have them on their own as a warm dessert, mix them with yoghurt or porridge for breakfast, or use them as a topping for pancakes and ice cream.
Making stewed apples is straightforward and doesn't require many ingredients or complicated cooking techniques. It's a quick and easy recipe that can be enjoyed by everyone.
🥘 Ingredients
Cooking Apples - washed, peeled, and quartered. I use Bramley apples, the most popular type of cooking apple.
Lemon Juice - a squeeze of lemon juice helps prevent the apples from browning whilst you're peeling and chopping.
Brown Sugar - I find that brown sugar gives the apples a lovely caramel flavour. You can also use honey or maple syrup.
Cinnamon Stick - provides a subtle warmth to the apples. You can also use nutmeg or ground ginger to flavour them.
Water - a splash of water helps break the cooking apples down during cooking.
🔪 Instructions
The recipe card with ingredient quantities and detailed instructions can be found at the bottom of the post
One: Wash, peel and chop the cooking apples into 3-4 cm chunks.
Two: Weigh out the sugar, cut the lemon in half and get a cinnamon stick from your spice cupboard.
Three: Put the chopped apples in a pan and squeeze over a little lemon juice (about half a lemon). Stir in the brown sugar, cinnamon stick, and 20ml of water.
Four: Simmer on the hob, stirring often, for about 15 minutes. Allow to cool and test the sweetness. Add more sugar or honey if needed.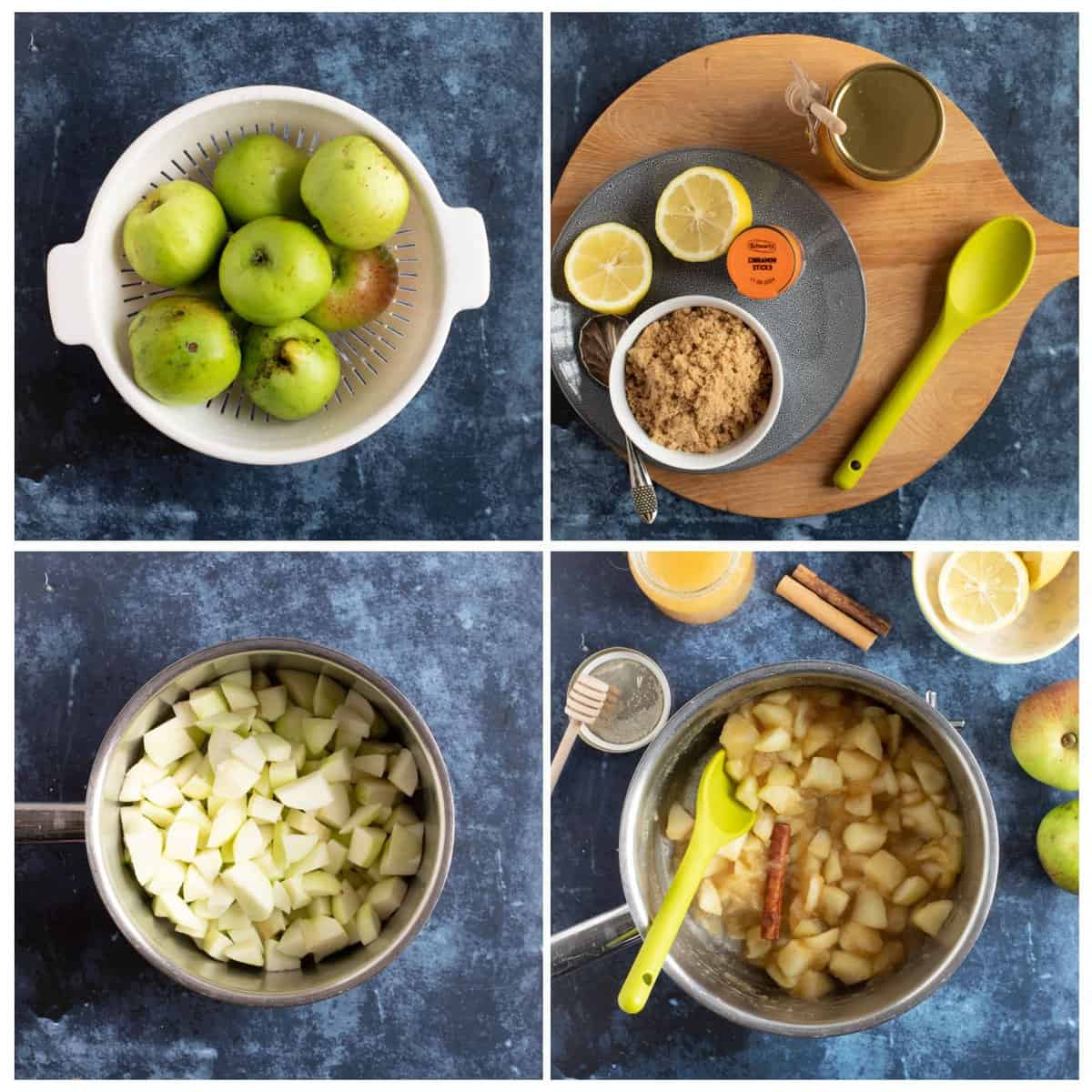 🍴 Serving suggestions
There are so many ways to use stewed apples. Here are a few ideas to try;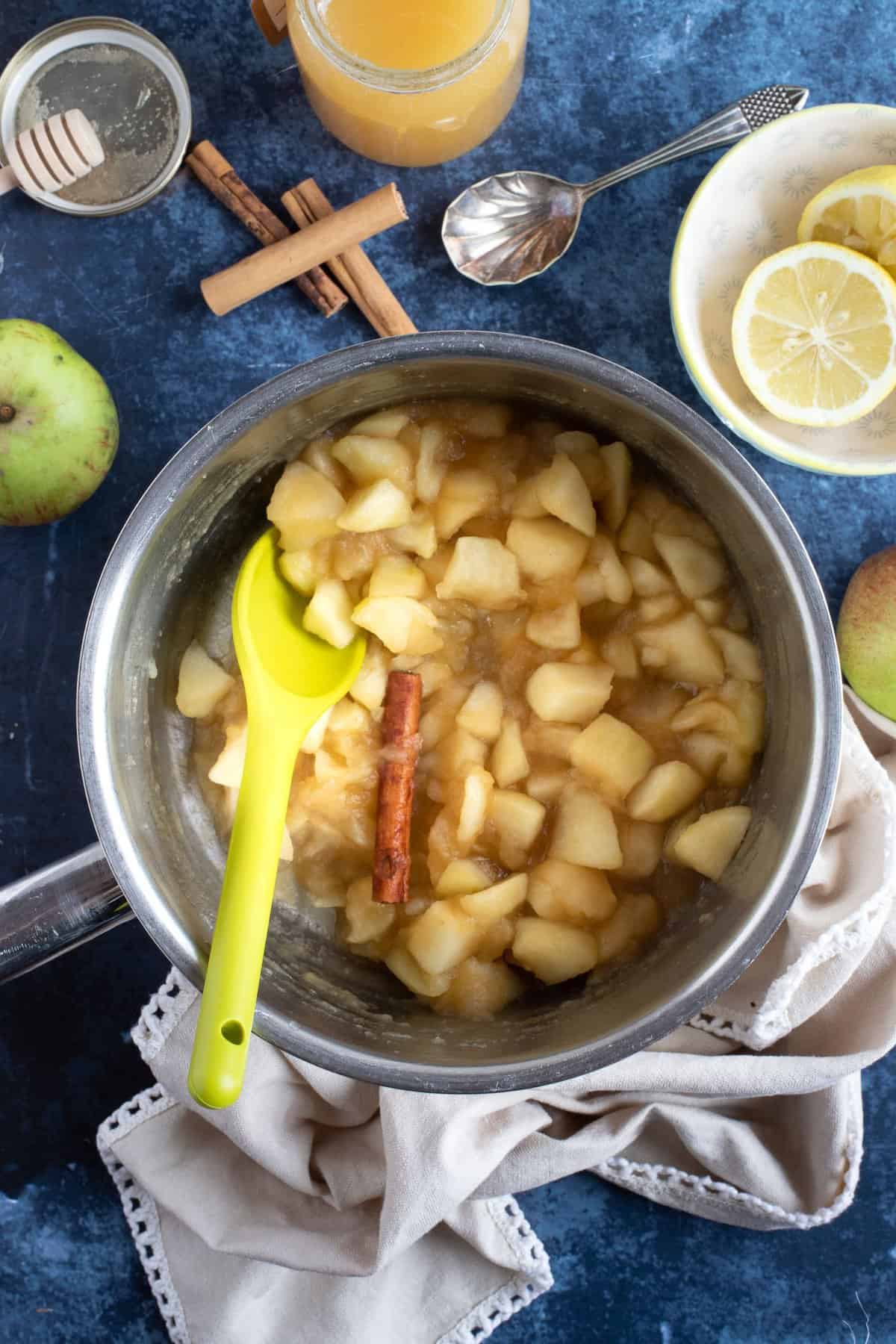 📖 Variations
Make the stewed apple healthier by leaving out the sugar and using honey to sweeten the apples instead. It's best to do this after they have been stewed and cooled.
Instead of traditional sweeteners, try drizzling a bit of maple syrup over your stewed apples.
Swap the cinnamon stick for 1 teaspoon of ground cinnamon.
Flavour the apples with vanilla instead of cinnamon. Use a vanilla pod or 1 teaspoon of vanilla paste.
Use pears instead of apples for cinnamon-stewed pears.
For an indulgent treat, soak raisins in a little rum and add them to the stewed apples. It's a perfect topping for ice cream or custard.
🥡 Storage
Store - Once your stewed apples have cooled down, transfer them into an airtight container. They can be stored in the fridge for up to a week.
🧊 Suitable for freezing?
If you'd like to store your stewed apples for more extended periods, you can safely freeze them as well. Simply place the cooled apples into a freezer-safe, airtight container or resealable freezer bag.
Frozen stewed apples can last up to three months in the freezer. When you're ready to enjoy them, defrost the apples in the fridge overnight or use a microwave to reheat them quickly.
❓ FAQS
What are the best apples for stewing?
Any apples can be stewed in this way, but if you're using eating apples you will need to reduce the amount of sugar you add to them. I personally prefer to use cooking apples like Bramleys.
Are stewed apples healthy?
To make the stewed apples healthier, replace the brown sugar with a reduced amount of honey.
Do you have to peel apples for stewing?
It's always best to peel apples for stewing. Some apple skins, particularly on cooking apples can be thick and tough.
Can I spice up my stewed apples?
Yes, you can add various spices like cinnamon, nutmeg, cloves, or ginger to your stewed apples to enhance their flavour. Experiment with different combinations to find your favourite.
Can I use stewed apples in savoury dishes?
Absolutely! Stewed apples can be a versatile addition to savoury dishes. They pair well with pork, chicken, and game meats, adding a touch of sweetness and acidity to balance the flavours.
😋Related recipes
More delicious apple recipes;
Have you seen my blueberry compote recipe? Another delicious recipe using seasonal fruit!
Don't forget to subscribe to the newsletter to stay up to date with what's cooking in the Effortless Foodie kitchen! You can also follow me on Facebook, Twitter, and Instagram too!
Recipe
Easy Cinnamon Stewed Apples
Easy cinnamon stewed apples recipe made with tart Bramley apples and flavoured with warming cinnamon spice.
Equipment
Knife

Chopping Board

Large Non Stick Pan
Ingredients
1

kg

Cooking Apples

1

Lemon

juice only

110

g

Light Brown Sugar

1

Cinnamon Stick

20

ml

Water
Instructions
Peel and chop the cooking apples (3 - 4cm chunks) and place in a pan. Squeeze over the lemon juice.

1 kg Cooking Apples,

1 Lemon

Stir in the light brown sugar, cinnamon stick and water.

110 g Light Brown Sugar,

1 Cinnamon Stick,

20 ml Water

Simmer on a medium-low heat for 15 minutes, stirring often to prevent the apples sticking to the bottom of the pan. If you find the apples are a bit watery, spoon any excess water out.

Allow to cool and test sweetness. If you want the apples to be a bit sweeter add more sugar or honey.
Notes
The nutritional information provided is approximate and is calculated using online tools. Information can vary depending on various factors, but we have endeavoured to be as accurate as possible.
Nutrition Facts
Easy Cinnamon Stewed Apples
Amount per Serving
% Daily Value*
* Percent Daily Values are based on a 2000 calorie diet.
Tried this recipe?
Snap a pic and tag @effortlessf00d on Instagram or Twitter