Introducing a delicious and easy-to-make no-bake treat - Honeycomb Crunchie Tiffin! Made with Cadbury Crunchie bars, this recipe is perfect for those who love the combination of smooth chocolate and honeycomb.
With just a few simple ingredients and no need to turn on the oven, this recipe is perfect for when you want a sweet treat without the hassle.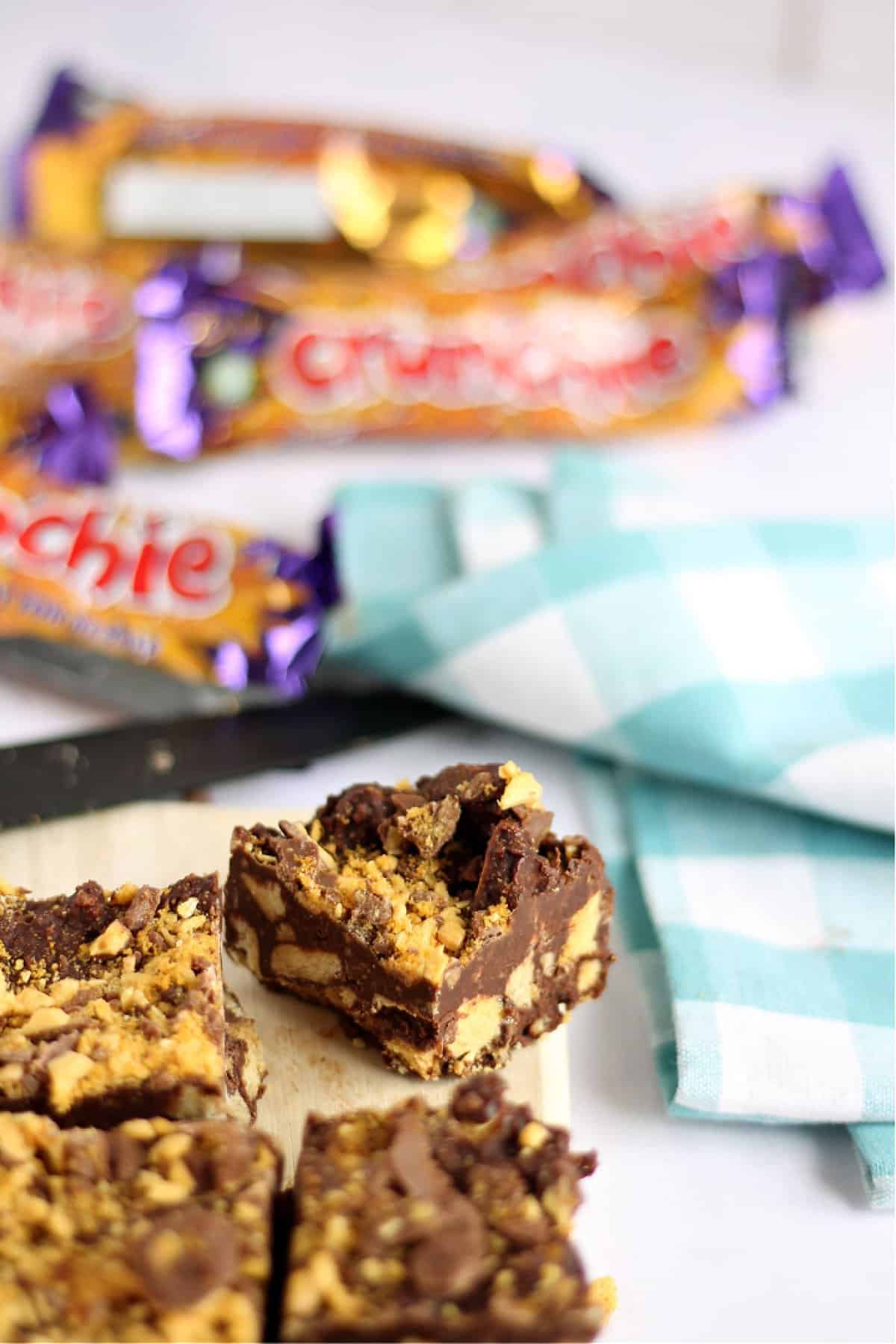 As a tiffin enthusiast, it's safe to say that I can never resist a slice of this indulgent chocolate treat. But what makes this version even more irresistible is the addition of chocolate-coated honeycomb, in the form of crushed Crunchie bars.
Trust me, once you try this version of honeycomb tiffin, you'll never want to go back to the plain old recipe again!
👩‍🍳 Love tiffin? You'll also like my kinder bueno tiffin, mini egg tiffin, and chocolate orange tiffin recipe!
Jump to:
What is chocolate tiffin?
Chocolate tiffin is a British no-bake cake comprising crushed biscuits (usually digestives), butter, syrup and chocolate.
You can add all sorts of other ingredients including dried fruit (raisins are a favourite), nuts and honeycomb.
Tiffin should never contain marshmallows though, these should be reserved for Rocky Road only!
✔️ Why should you try it?
It's incredibly easy to make - with just a few simple ingredients and no baking required, this recipe is perfect for those who want a delicious treat without spending hours in the kitchen.
It's a unique twist on a classic recipe - by adding chocolate-coated honeycomb, you're taking a traditional tiffin recipe and making it even more indulgent and delicious.
It's perfect for sharing - whether you're having friends over for a movie night or bringing a dessert to a party, this recipe will impress and satisfy everyone's sweet tooth.
It's a great way to use up leftover chocolate - if you have leftover chocolate bars lying around, this recipe is a great way to use them up and create something delicious.
It's a crowd-pleaser - who doesn't love the combination of chocolate and honeycomb?
🥘 Ingredients
To make the Crunchie traybake, you will need;
Chocolate - A key ingredient and this version contains a mixture of melted dark and milk chocolate to get that chocolate intensity just right.
Digestive Biscuits - The biscuits are crushed up into small pieces and mixed with melted chocolate.
Butter - Salted butter is used in this tiffin recipe, although you could substitute it with unsalted if you prefer.
Golden Syrup - The beautiful amber liquid gives the tiffin just the right amount of sweetness.
Chocolate Coated Honeycomb - Crushed Cadbury Crunchie Bars have been used in this version, but any other chocolate-coated honeycomb can be used to achieve the same delicious result.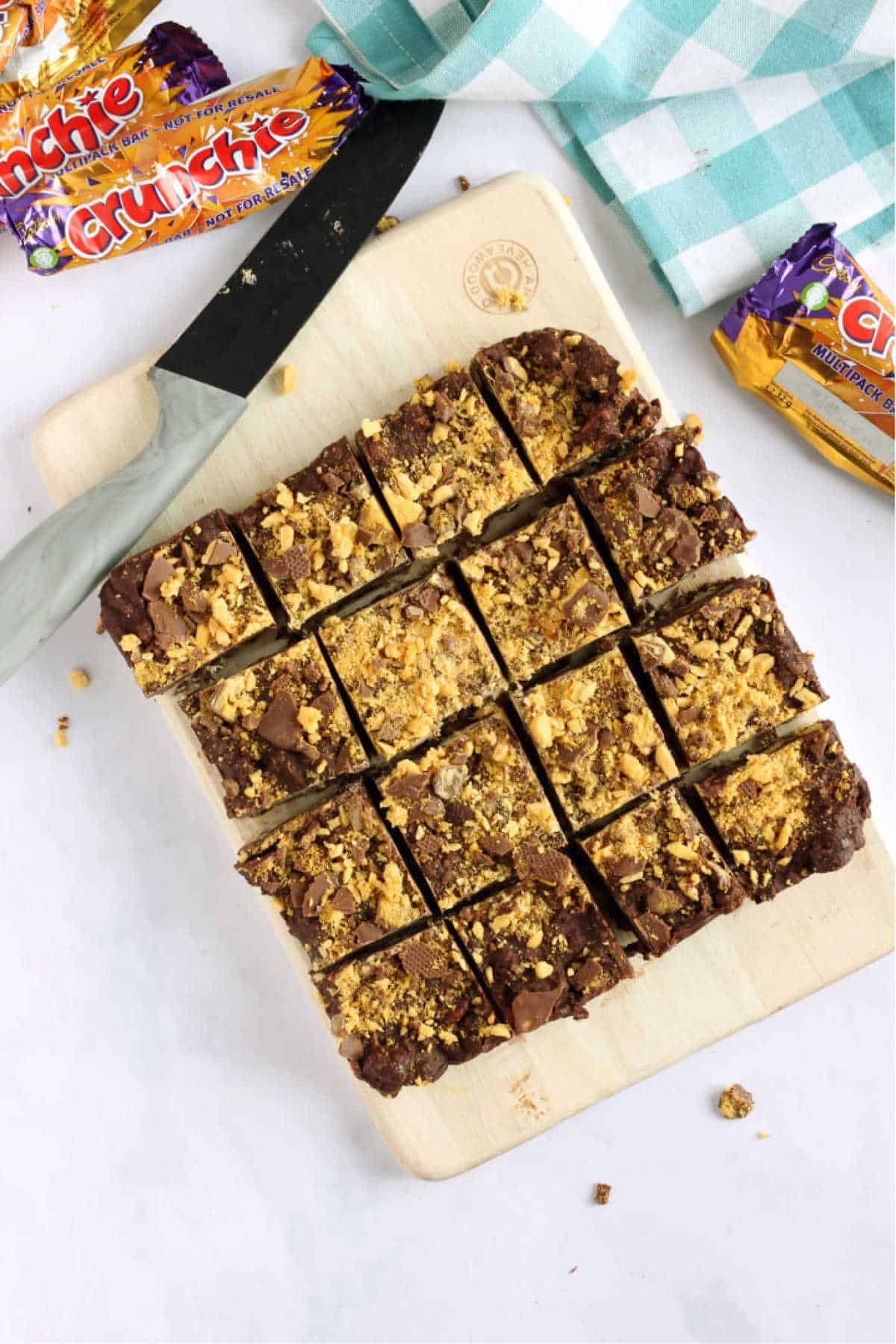 🔪 Instructions
The recipe card with ingredient quantities and detailed instructions can be found at the bottom of the post
One: Crush the biscuits and crunchie bars with a rolling pin and place them into a large bowl.
Two: Melt the butter, chocolate and syrup together in a bowl (I do it in the microwave in 20-second bursts) and pour into the crushed biscuit mix.
Three: Stir thoroughly until everything is coated in the melted chocolate mixture.
Four: Line a 20 cm square tin with cling film and pour the tiffin in, spreading it out with the back of a spoon. Finish by sprinkling over more crushed honeycomb. Place in the refrigerator for 2 hours before cutting into squares.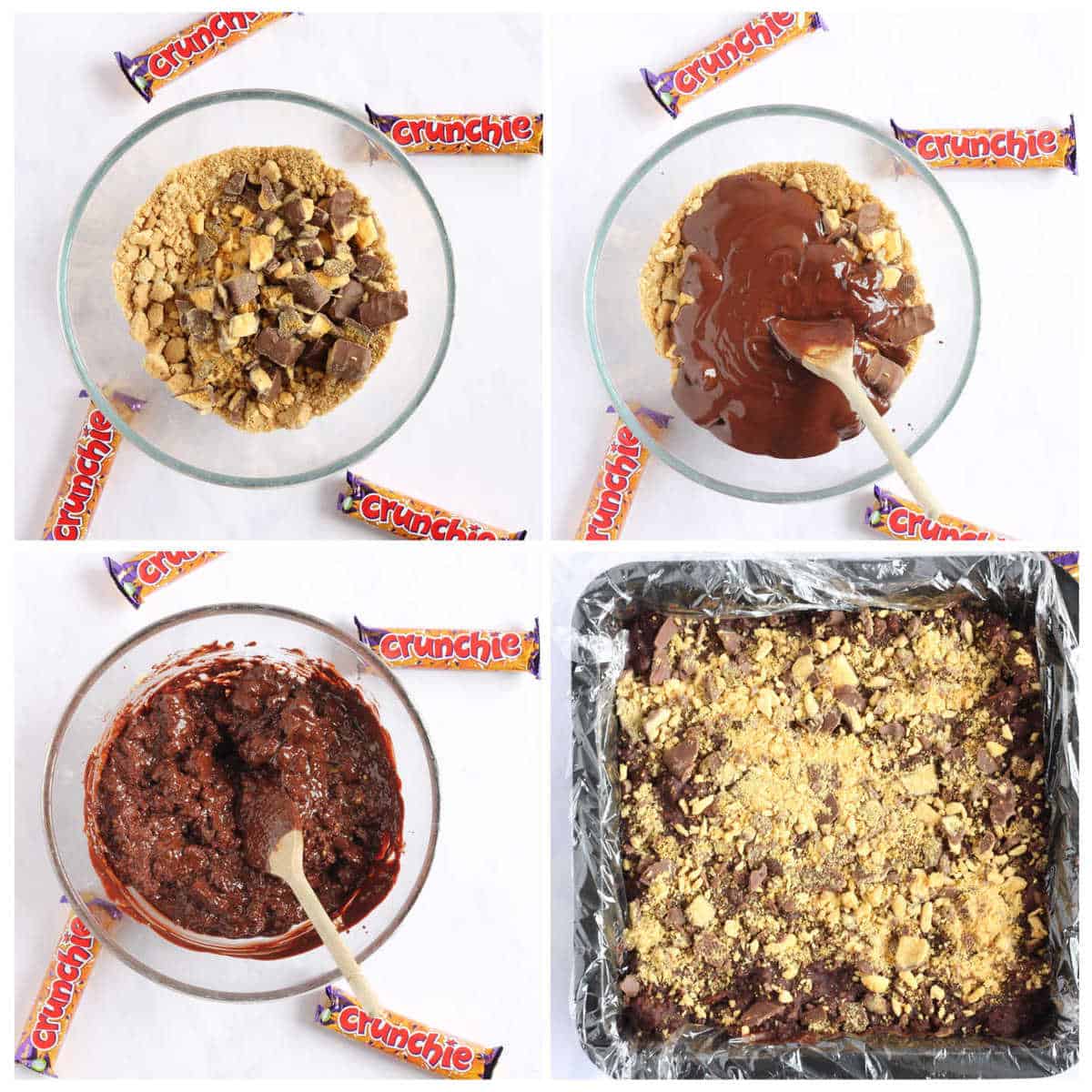 🍴 Serving suggestions
This irresistible Crunchie tiffin recipe is a staple at family gatherings and birthday parties.
It's also a hit during Christmas when I like to add some festive flair by incorporating dried fruit and nuts into the recipe.
It can also be enjoyed with a cup of hot chocolate or coffee for a cosy afternoon treat.
📖 Variations
Here are some variations you can try!
White Chocolate and Raspberry: Swap out the dark and milk chocolate for white chocolate and add some freeze-dried raspberries for a fruity twist.
Peanut Butter and Chocolate: Mix some peanut butter into the melted chocolate for a nutty flavor, and add some chopped peanuts on top for crunch.
Mint Chocolate: Add a few drops of peppermint extract to the melted chocolate for a refreshing and minty twist.
Salted Caramel: Drizzle some salted caramel sauce over the top of the tiffin for a sweet and salty flavor.
Rocky Road: Add some mini marshmallows, chopped nuts, and crushed biscuits to the recipe for a classic rocky road twist.
Replace the honeycomb with Maltesers to make Malteser tiffin, which is another gem of a recipe.
Swap the digestives with another type of biscuit. Rich tea, gingernuts, and shortbread all work well.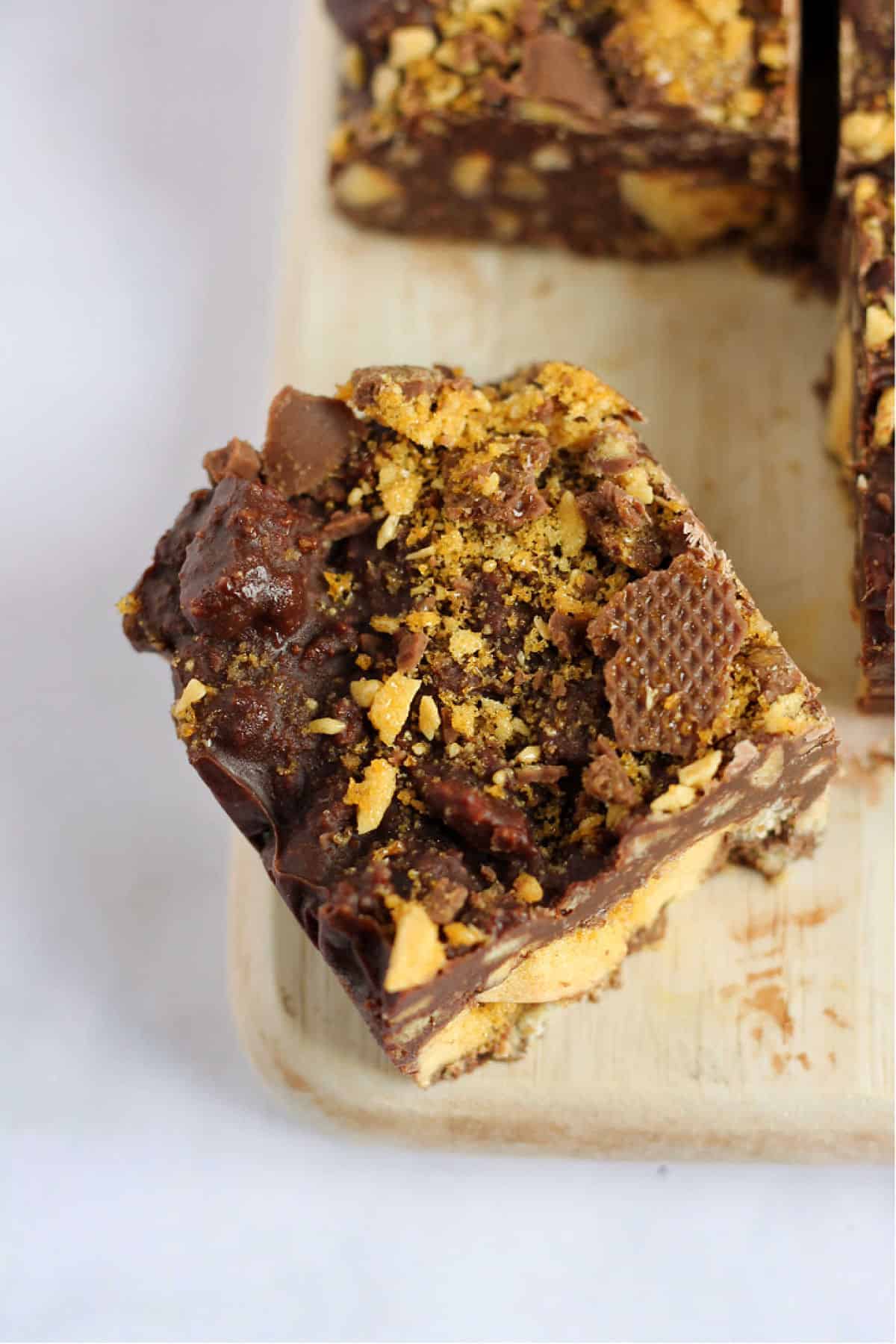 🥡 Storage
Store - Place it in an airtight container and store it in the refrigerator for up to a week.
Freeze - If you want to keep it for longer, you can freeze it for up to three months. To freeze, wrap the tiffin tightly in cling film or aluminum foil and place it in a freezer-safe container. When you're ready to eat it, simply thaw it in the refrigerator overnight before serving. Keep in mind that the texture of the tiffin may change slightly after freezing, but it will still be just as delicious!
😋Related recipes
If you like this no bake Crunchie slice, you might also like;
🍽️ More family-friendly recipes
Don't forget to subscribe to the newsletter to stay up to date with what's cooking in the Effortless Foodie kitchen! You can also follow me on Facebook, Twitter, and Instagram too!
Recipe
Chocolate Honeycomb Tiffin
Satisfy your sweet tooth with this no bake chocolate honeycomb Crunchie tiffin recipe made with Cadbury Crunchie bars. This no-bake treat is easy to make and perfect for any occasion!
Equipment
Rolling Pin

Microwave

Mixing Bowl

20 cm (8'') Square Baking Tin
Ingredients
250

g

Digestive Biscuits

120

g

Chocolate Coated Honeycomb

I used 4 Crunchie bars, crushed

200

g

Dark Chocolate

100

g

Milk Chocolate

100

g

Butter

salted

150

g

Golden Syrup
For the topping
60

g

Chocolate Coated Honeycomb

I used 2 Crunchie bars, crushed
Instructions
Crush the digestive biscuits and crunchie bars in a sealed plastic bag with a rolling pin. Spoon into a large bowl.

250 g Digestive Biscuits,

120 g Chocolate Coated Honeycomb

In another bowl, place the butter, chocolate and syrup and melt in the microwave in 20 second bursts. Stir to make sure everything is melted then pour onto the crushed biscuit mix and combine.

200 g Dark Chocolate,

100 g Milk Chocolate,

100 g Butter,

150 g Golden Syrup

Spoon the tiffin into a 20 x 20cm tin lined with clingfilm and use the back of a spoon to smooth the top.

Sprinkle over the crushed crunchie bars for the topping.

60 g Chocolate Coated Honeycomb

Chill for at least 2 hours before cutting into squares.
Notes
The nutritional information provided is approximate and is calculated using online tools. Information can vary depending on various factors, but we have endeavoured to be as accurate as possible.
Nutrition Facts
Chocolate Honeycomb Tiffin
Amount per Serving
% Daily Value*
* Percent Daily Values are based on a 2000 calorie diet.
Tried this recipe?
Snap a pic and tag @effortlessf00d on Instagram or Twitter