An easy blackberry crumble recipe made with sweet juicy blackberries and a buttery oat crumble topping.
This classic British dessert is best served with whipped cream, homemade ice cream, or custard. You might also like my blackberry crumble bars recipe too!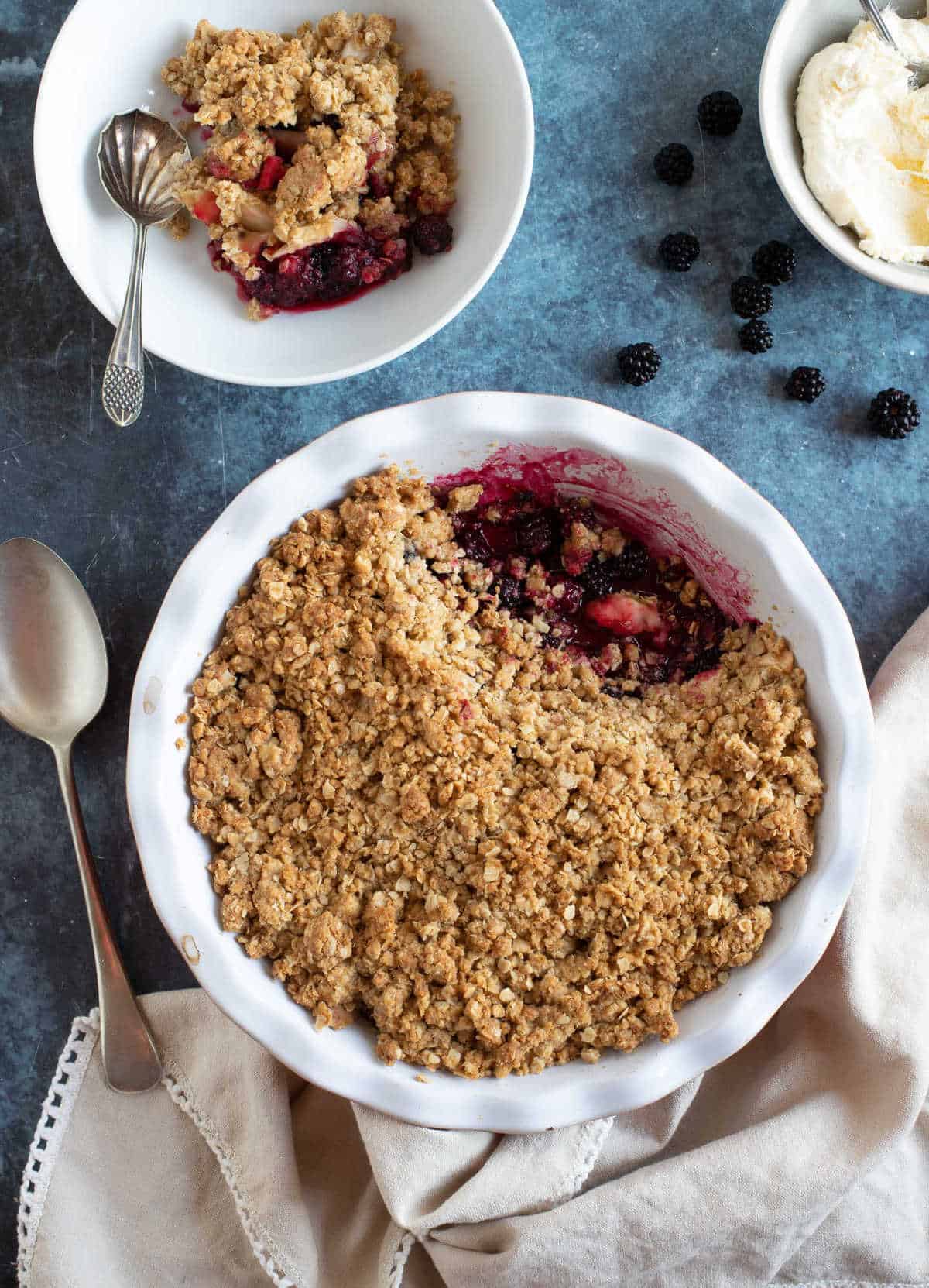 I love it when blackberry (bramble) season rolls around every year. We're lucky to have a large bank of blackberry bushes in the field next to our house, which means my freezer is always full of these beautiful juicy berries.
I like to add a couple of chopped Bramley apples to my blackberry crumble, which helps to balance the perfumed sweetness of the fresh blackberries. If you prefer, you can leave the apples out, or use eating apples like Granny Smith instead.
👩‍🍳 Love blackberries? Don't forget to check out my easy blackberry cobbler recipe too!
Jump to:
✔️ Why should you try it?
Summer's the best time to indulge in the bounty of fresh, juicy, and sweet blackberries and this easy blackberry recipe is a must-try!
Blackberry crumble is a quintessentially British dessert that combines the sweet and tangy flavours of ripe blackberries with a buttery crumbly topping. It's great served with clotted cream or ice cream.
The topping is an oaty flapjack-style crumble made with melted butter, so there is no rubbing is required.
The crumble recipe is suitable for freezing.
🛒 Ingredients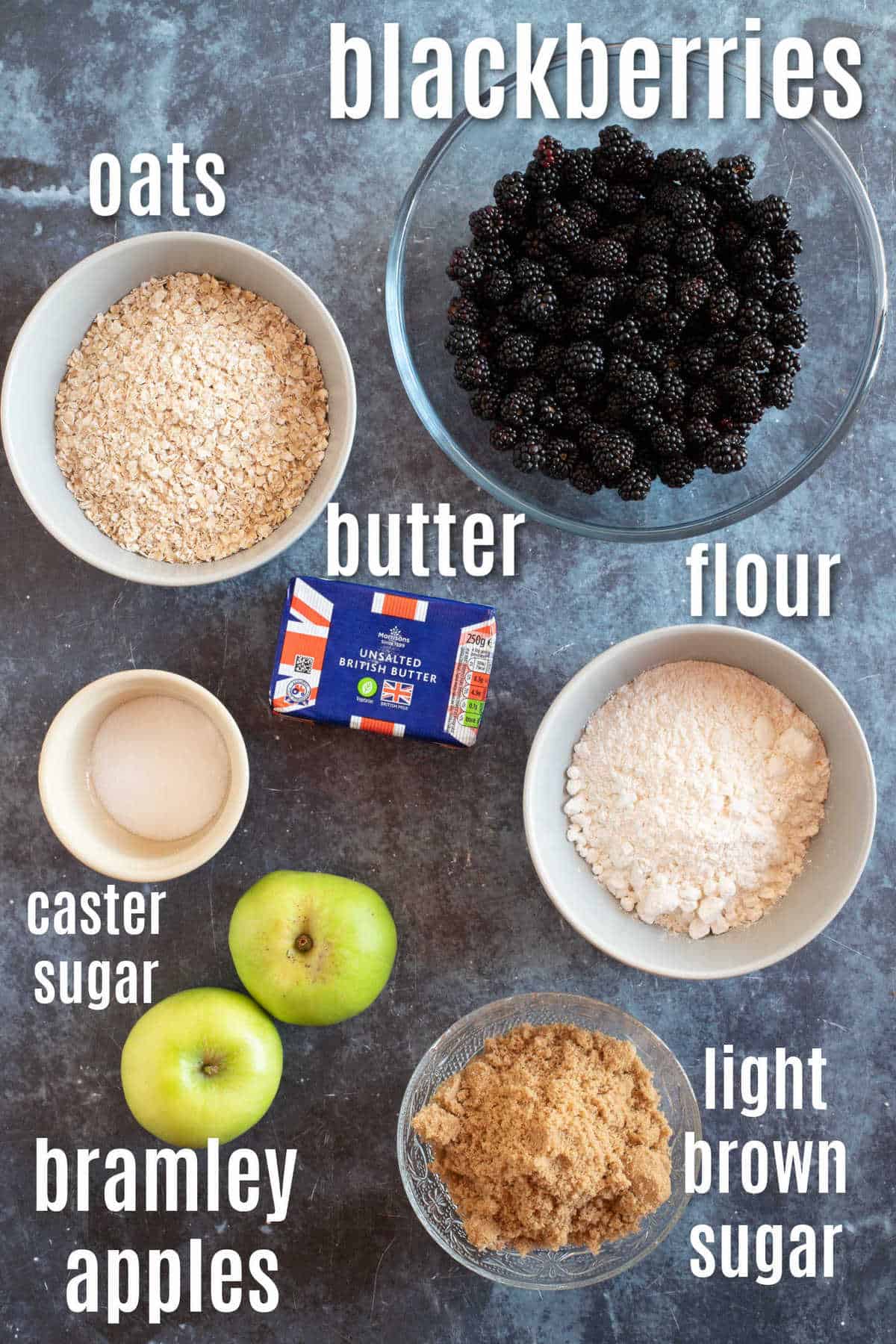 Blackberries - foraged blackberries are so much tastier (and cheaper) than shop-bought. However, if you don't have time to go blackberry picking you can buy them from the supermarket instead.
Bramley Apples - 2 Bramley apples peeled and sliced. Swap for Granny Smith apples if you prefer. If you have a lemon available, squeeze over some lemon juice to prevent the apples from browning.
Caster Sugar - 1 tablespoon is all you need for the fruity filling, but if you enjoy a sweeter taste then double the quantity.
For the crumble topping;
Flour - plain white flour is best for this recipe.
Oats - use ordinary rolled oats (porridge oats) but not jumbo oats as they don't absorb the melted butter very well.
Brown Sugar - light brown sugar gives the topping a wonderful caramel sweetness. You could substitute for demerara sugar or caster sugar.
Butter - melted unsalted butter which has been allowed to cool.
🔪 Instructions
The recipe card with ingredient quantities and detailed instructions can be found at the bottom of the post
One: Put the peeled and sliced apples, blackberries, and caster sugar in a large baking dish (approximately 2 litres) and give everything a stir.
Two: Make the crumble topping by placing the flour, oats, and brown sugar in a large bowl and mixing in the melted butter. Stir with a metal spoon until crumbles form.
Three: Spoon the crumble over the blackberries and bake in the oven for 45 minutes or until golden brown and bubbling.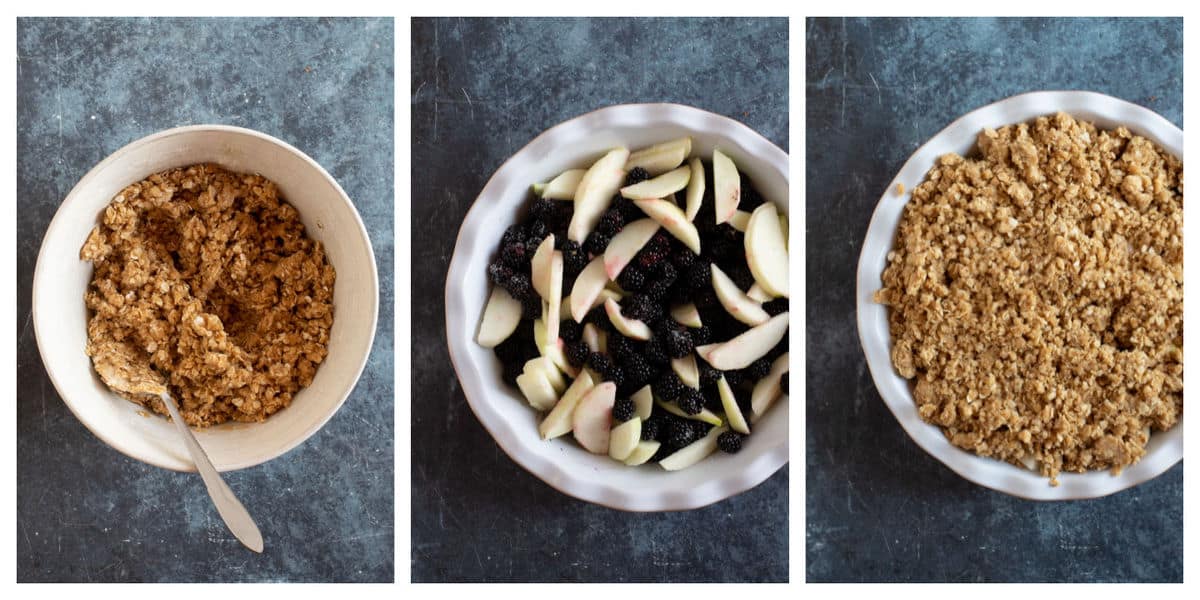 💭 Top tips
Choose plump, juicy, and ripe blackberries for the best flavour. Ripe blackberries are sweeter and have a more intense taste, which will make your crumble more enjoyable.
Blackberries can vary in sweetness, so taste them before making the crumble. If they are tart, add a little more sugar to the blackberry filling to balance the flavours. You can also adjust the sugar amount based on your personal preference.
If you're using foraged blackberries, give them a good wash before using them. Place the blackberries in a colander and wash them with cold running water, then gently pat them dry with paper towels.
Always preheat your oven before baking the blackberry crumble. This ensures even cooking and helps achieve a golden-brown topping.
If you notice the crumble topping is browning too quickly while baking, cover the dish loosely with foil. This prevents excessive browning while allowing the fruit filling to cook thoroughly.
Let the blackberry crumble cool slightly after removing it from the oven, but it's best enjoyed warm.
🍴 Serving suggestions
Fruit crumbles are delicious with clotted cream, custard, or a scoop of vanilla ice cream. My no-churn honeycomb ice cream complements this fruity pudding really nicely, too!
Enjoy the blackberry crumble straight from the oven, with its comforting warmth, or let it reach room temperature. For an added touch of sweetness, try drizzling some maple syrup over it!
Don't let any leftover fruit crumble go to waste! It's an excellent choice for breakfast when served with creamy Greek yogurt and a handful of fresh berries!
📖 Variations
Add lemon zest to the fruit filling, for a zingy citrus flavour.
Add a handful of chopped walnuts to the crumble topping for crunch and texture.
Use different berries such as raspberries or bilberries (wild blueberries), or try a mixture of berries. Stone fruit also works well in crumbles.
Make the blackberry crumble vegan by using a dairy-free spread instead of butter.
Fresh or frozen blackberries can be used in this crumble. If you're using frozen blackberries, there's no need to defrost them first.
Add 2 tablespoons of stewed rhubarb to make rhubarb and blackberry crumble.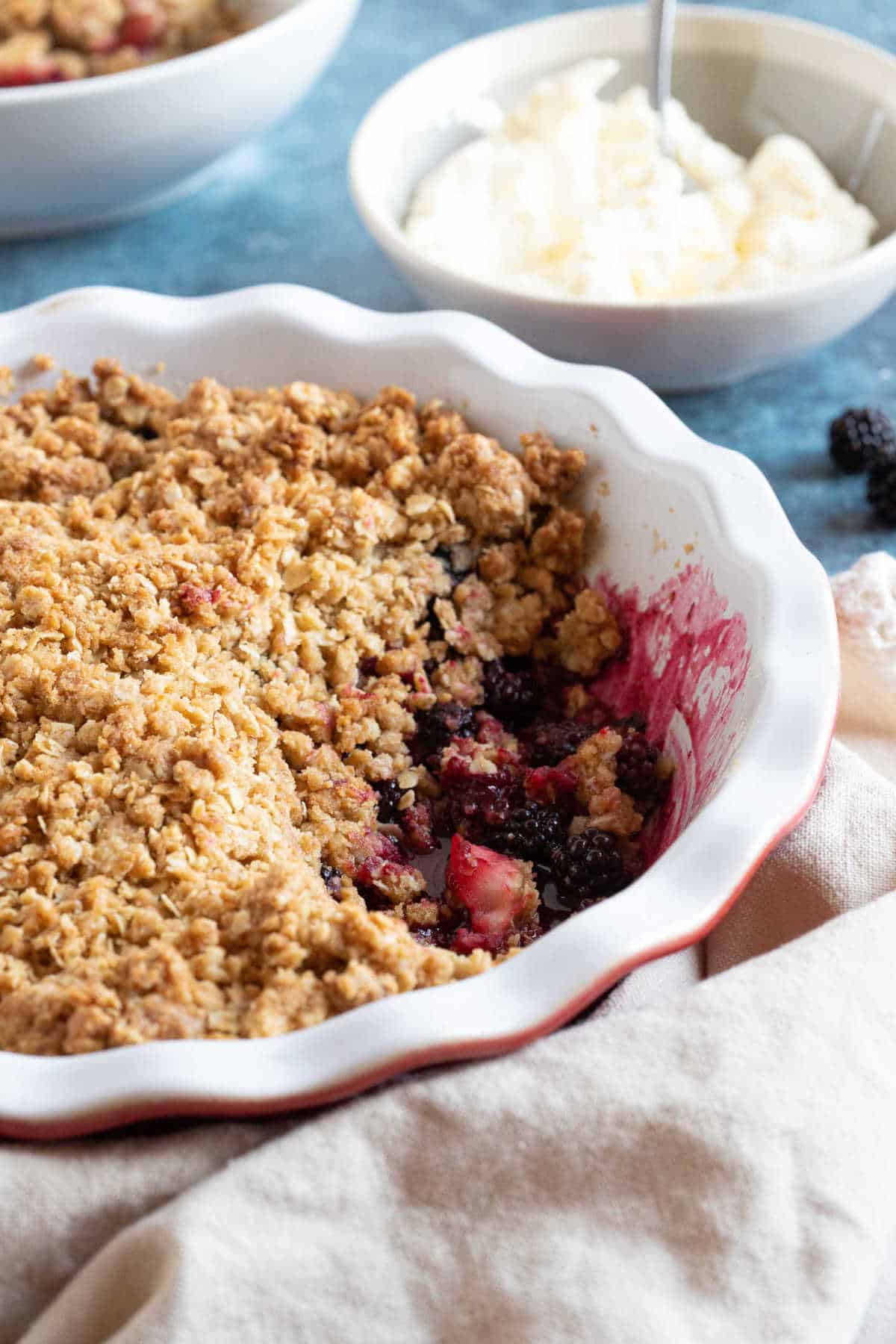 🥡 Storage
Store: The bramble crumble can be made up to 2 days ahead, and then stored in the fridge until needed.
Reheat: Baked crumble can be reheated in the microwave or oven, or eaten at room temperature.
Freeze: Blackberry crumble is suitable for freezing, either baked or unbaked. There is no need to defrost the crumble first, just pop it in the oven to bake or warm through.
❓ FAQs
What can I do with freshly picked blackberries?
1. Blackberry (bramble) crumble
2. Blackberry compote
3. Blackberry muffins and cakes
4. Blackberry jam
5. Freeze them for future use
Do you need to cook blackberries?
Blackberries can be eaten raw or cooked.
What month do you pick blackberries?
In the UK, blackberries are in season from August through to early October.
Can I make the crumble topping ahead of time?
Yes, you can make the crumble topping ahead of time and store it in an airtight container in the refrigerator until you are ready to use it. However, it is recommended to sprinkle the crumble topping over the fruit just before baking to ensure that it stays crispy.
Can I make individual servings of blackberry crumble?
Yes, you can make individual servings of blackberry crumble by dividing the fruit and crumble topping among individual ramekins or baking dishes. Adjust the baking time accordingly, as smaller dishes will require less time in the oven than a larger baking dish.
Can I use salted butter in the crumble topping?
While it is recommended to use unsalted butter in the crumble topping, you can use salted butter if that is all you have. Just be aware that the salt content in the butter may affect the overall flavor of the crumble.
😋Related recipes
More delicious fruity crumble recipes
More delicious blackberry recipes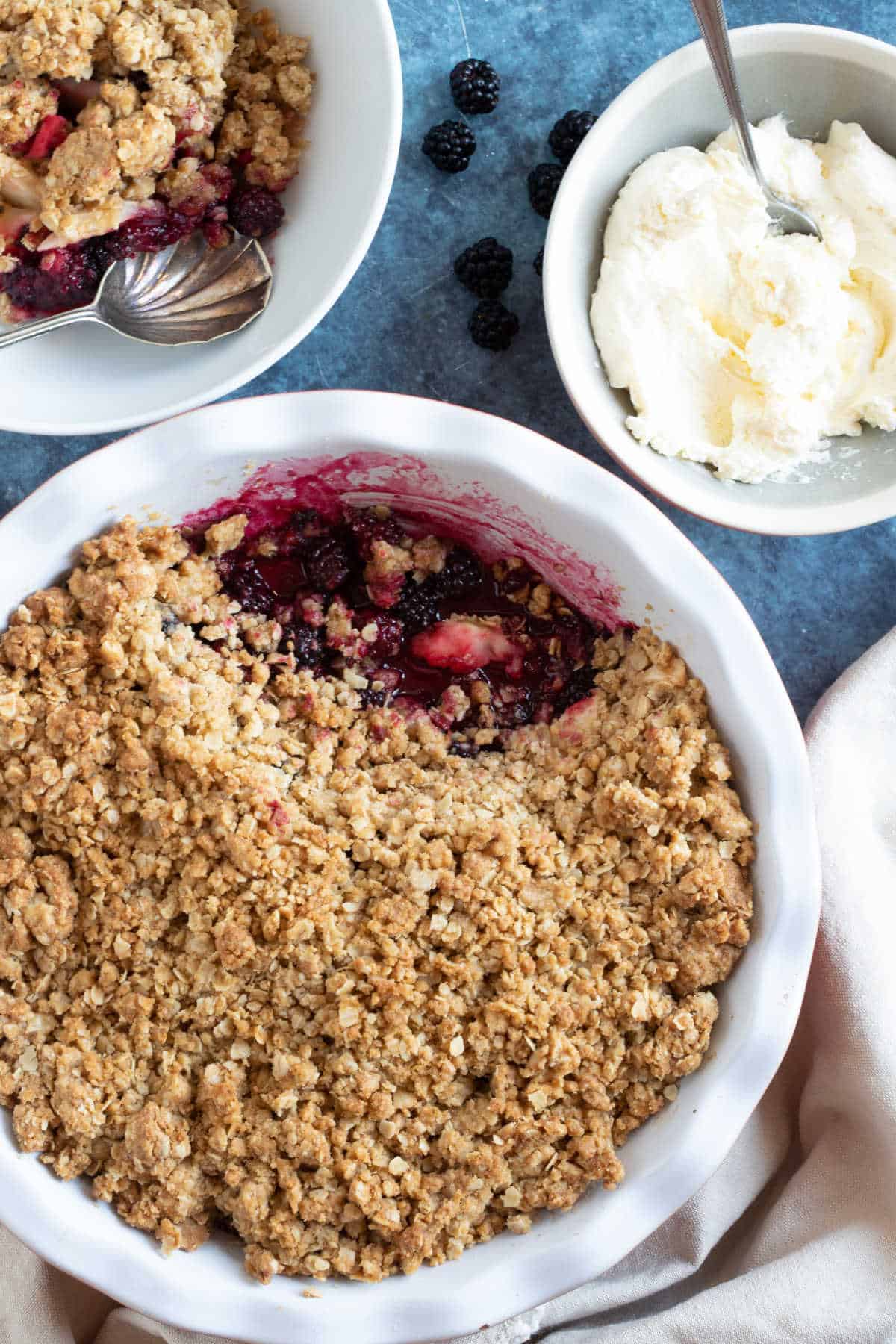 Don't forget to subscribe to the newsletter to stay up to date with what's cooking in the Effortless Foodie kitchen! You can also follow me on Facebook, Twitter, and Instagram too!
Recipe
Easy Blackberry Crumble
An easy blackberry crumble recipe with sweet juicy blackberries and a buttery oat crumble topping. Serve with cream or custard for a traditional British dessert!
Equipment
Kitchen Scales

Chopping Board

Vegetable Peeler

Pie Dish

Mixing Bowl

Wooden Spoon
Ingredients
500

g

Blackberries

2

Bramley Apples

peeled and sliced

1

tablespoon

Caster Sugar

125

g

Plain Flour

125

g

Rolled Oats

not jumbo oats

150

g

Light Brown Sugar

125

g

Butter

melted
Instructions
Preheat the oven to 180°c (160 fan/ Gas 4).

Place the blackberries, sliced apple and caster sugar into a 2 litre pie dish and give them a gentle mix.

500 g Blackberries,

2 Bramley Apples,

1 tablespoon Caster Sugar

Put the plain flour, oats, and light brown sugar in a mixing bowl, and pour over the cooled melted butter. Stir with a spoon until crumbles form.

125 g Plain Flour,

125 g Rolled Oats,

150 g Light Brown Sugar,

125 g Butter

Spoon the crumble mixture onto the fruit and bake in the oven 45 minutes until golden.
Notes
Storage:
The bramble crumble can be made up to 2 days ahead, and then stored in the fridge until needed. It is also freezer-friendly.
Nutrition:
The nutritional information provided is approximate and is calculated using online tools. Information can vary depending on various factors, but we have endeavoured to be as accurate as possible.
Nutrition Facts
Easy Blackberry Crumble
Amount per Serving
% Daily Value*
* Percent Daily Values are based on a 2000 calorie diet.
Tried this recipe?
Snap a pic and tag @effortlessf00d on Instagram or Twitter