Moist and rich, these chocolate courgette muffins are the perfect way to use up a glut of courgettes from your garden or allotment. Best of all they can be made in under 30 minutes.
Enjoy them for breakfast, as a snack, or even a quick and easy dessert!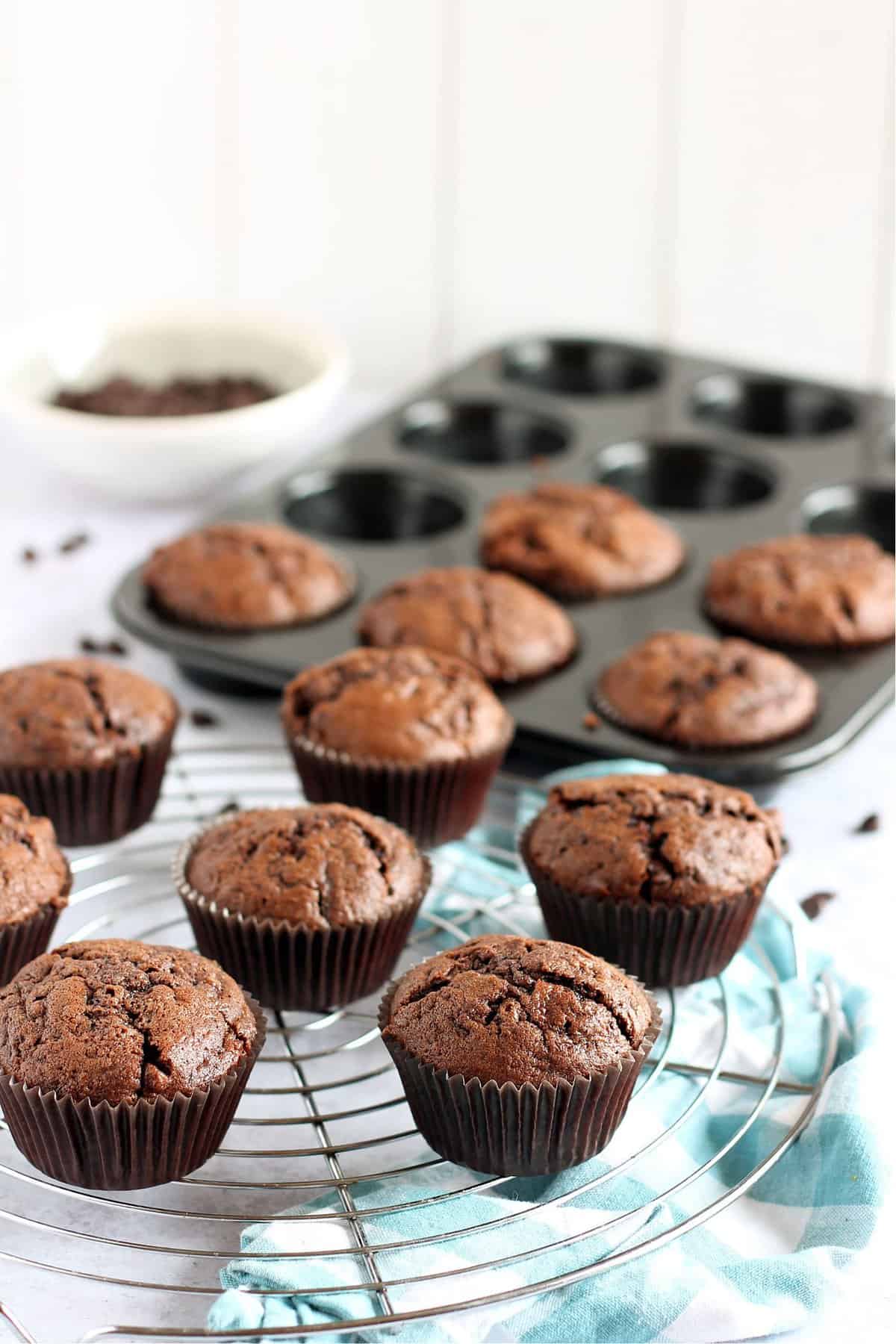 A little bit of magic happens when you add courgettes to cakes and baked treats (check out my fudgy courgette brownies too). They help the chocolate muffins become incredibly moist, rich, and oh so moreish. I guarantee you won't be able to stop at just one.
I use my trusty basic muffin recipe as the base for these delicious chocolate courgette muffins, and add grated courgette, cocoa powder, and chocolate chips, for a double chocolate hit.
Love chocolate muffins? You'll want to try my moist chocolate orange muffins too!
Jump to:
✔️ Why should you try it?
Incorporating courgettes into your muffins provides a nutritional boost, as courgettes are packed with beneficial vitamins and minerals. Plus, the taste is disguised by the rich chocolate, making these muffins both healthy and delectable to kids.
The moisture from the courgette contributes to a tender and moist texture in these muffins, without making them overly dense.
For those who struggle to get their daily dose of vegetables, especially children, these muffins are an excellent way to 'sneak' in some extra greens without anyone being the wiser.
These muffins make for a perfect breakfast on-the-go, a satisfying midday snack, or a guilt-free dessert. Plus, they're a wonderful way to use up an abundance of courgettes you may have from your garden or allotment.
Courgette or Zucchini?
Courgettes and zucchini are the same thing. In the UK we call them courgettes and in the US, they are known as zucchini.
If you are based stateside, just use zucchini instead of courgettes. I also have a handy weight conversion to US customary in my recipe card, at the bottom of the post.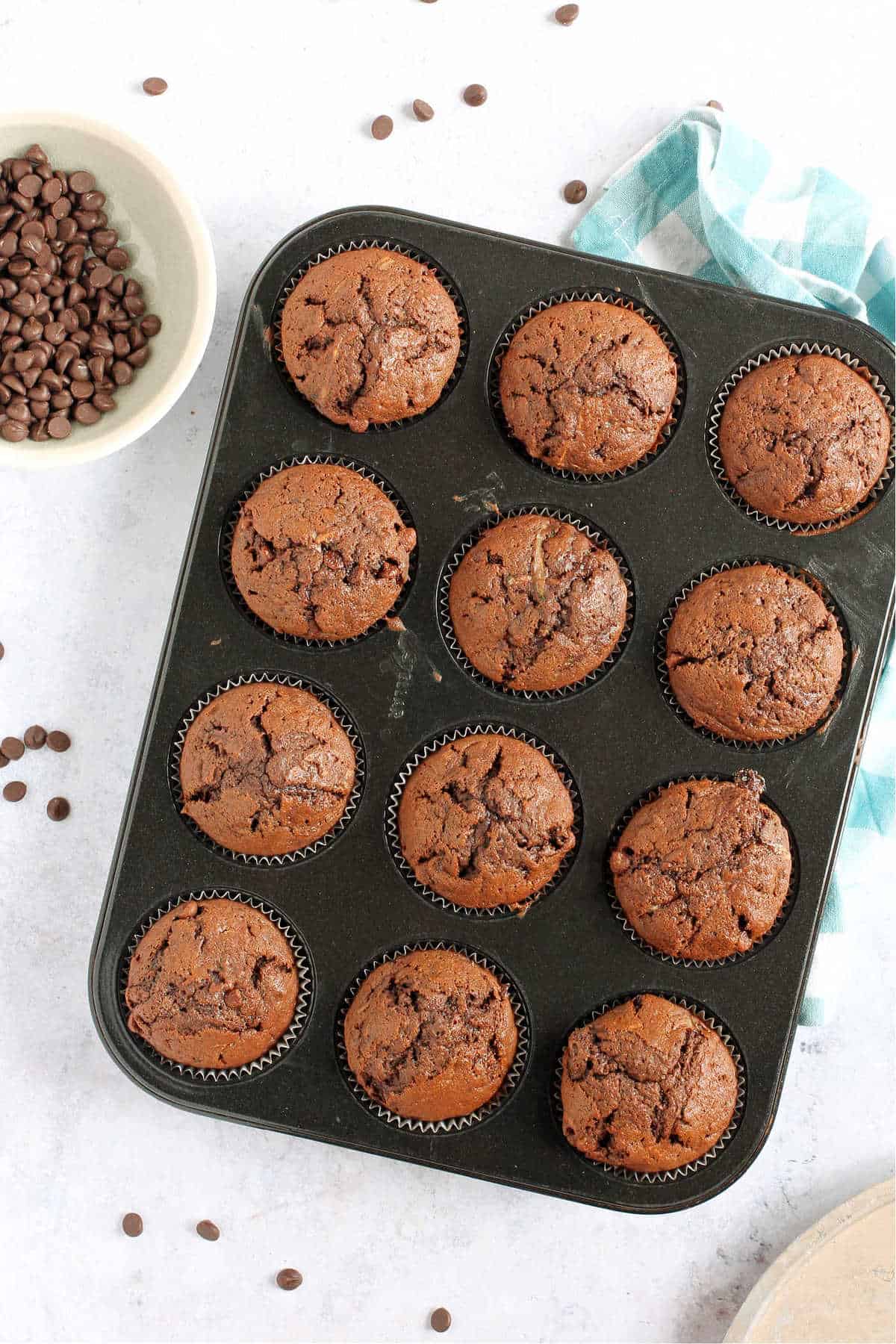 🥘 Ingredients
My basic muffin mix combines plain flour, caster sugar, and bicarbonate of soda, with natural yogurt, eggs, and melted butter.
I swap out some of the plain flour for cocoa powder in these chocolate courgette muffins, add grated courgette, and an extra chocolate hit of milk chocolate chips (although feel free to use dark chocolate if you like).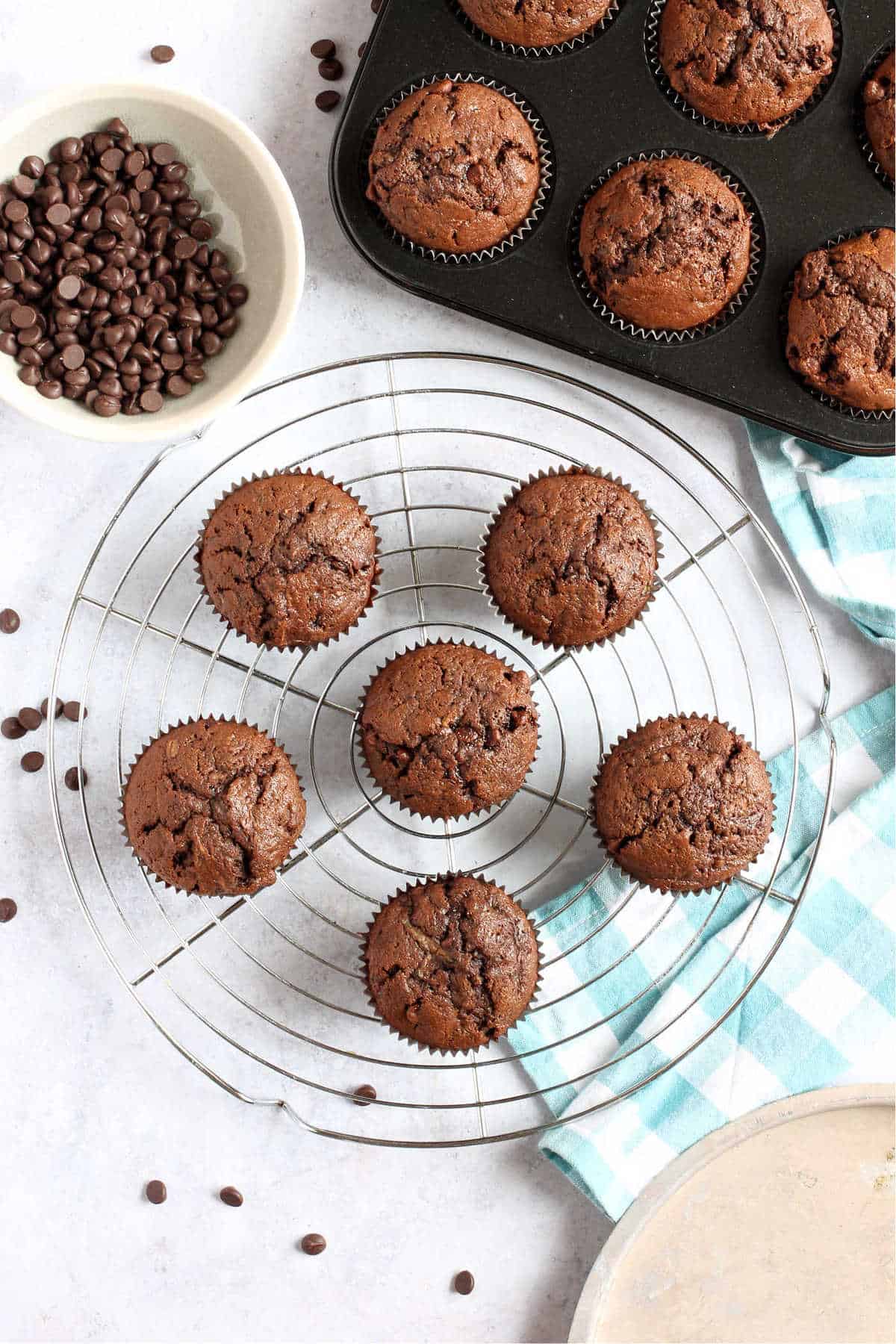 🥄 Equipment
A couple of mixing bowls, a 12 hole muffin tin, and some muffin cases (paper or silicone), are all you need to make these intensely rich chocolate muffins.
🔪 Instructions
The recipe card with ingredient quantities and detailed instructions can be found at the bottom of the post
One: Combine the wet ingredients with the dry ingredients and mix gently until combined.
Two: Stir in the grated courgette and chocolate chips.
Three: Be careful not to over mix, otherwise the muffins will become tough.
Four: Spoon the muffin batter into paper cases and bake in a preheated oven for 18 minutes.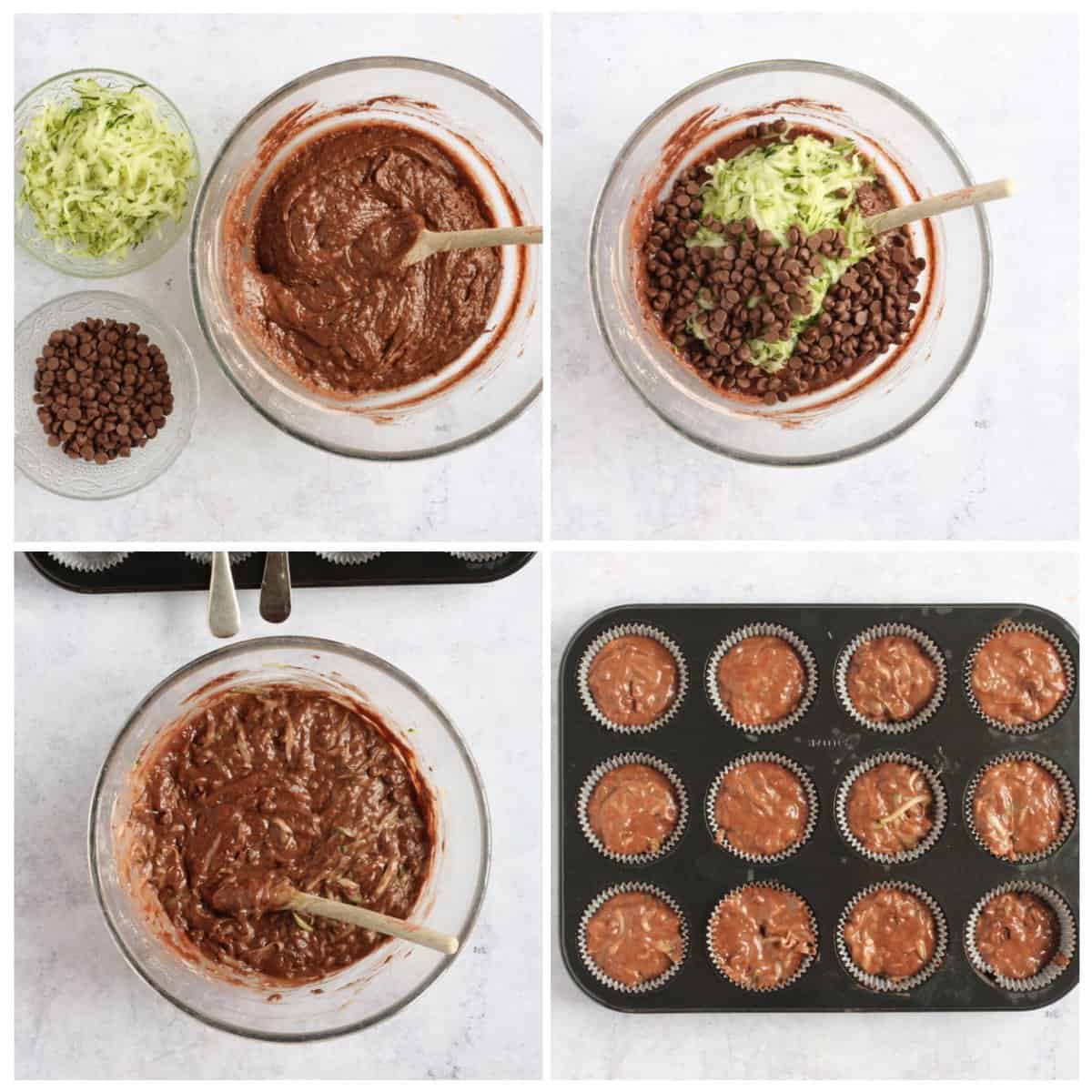 💭 Top tips
Grate the courgettes finely so they blend into the muffin batter well, adding moisture without noticeable chunks.
After grating the courgette, squeeze out excess water using a clean tea towel or kitchen paper. This helps ensure your batter doesn't get too watery, which could impact the texture of the muffins.
Mix the ingredients until just combined. Overmixing can lead to tougher muffins as it develops more gluten in the batter.
Good quality cocoa powder or chocolate will provide a deep, rich chocolate flavour.
Make sure your oven is preheated to the right temperature before putting your muffins in. This helps the muffins rise properly.
Insert a toothpick into the centre of a muffin to check doneness. If it comes out clean or with a few crumbs clinging to it, the muffins are ready.
🍴 Serving suggestions
These delicious muffins make a great after-school snack for kids.
I also serve the muffins as a quick and easy dessert too, straight from the oven with a scoop of honeycomb ice cream. They could also be eaten with warm creamy custard, for a comforting snack or dessert.
📖 Variations
You could add other flavours to complement the chocolate, such as orange zest, vanilla extract, or a hint of mint.
For a bit of crunch, consider adding nuts like walnuts, pecans, or hazelnuts. These can be mixed into the batter or sprinkled on top before baking.
You could try using different types of chocolate, such as milk or white chocolate chips, instead of the traditional dark chocolate for a slightly different taste.
For an additional fruity note, consider adding dried fruit like cranberries or raisins.
Add a bit of warmth to your muffins with spices. Cinnamon, nutmeg, or cardamom would all work nicely with the chocolate.
🥡 Storage
Stored in a sealed container, these muffins will keep fresh for up to 3 days
🧊 Suitable for freezing?
These muffins freeze brilliantly. I often make a double batch and freeze half for another day.
Place the muffins in a freezer-safe container with a lid, placing a sheet of baking paper between each layer of muffins, to prevent them from sticking together.
❓ FAQS
Can you use courgette in sweet bakes?
Courgette is perfect for adding to sweet baked goods because the delicate flavor allows it to blend in perfectly with cake mixtures. It also helps to keep baked goods moist without having to add a lot of extra fat to the recipe. Grate the courgettes finely and you will not even notice them!
How many muffins does this recipe make?
This recipe makes 12 standard muffins.
Can I leave out the chocolate chips?
Yes, you can leave out the chocolate chips if you prefer. The muffins will still be tasty and moist, but they won't have as much of a chocolate flavour.
Can I add nuts or dried fruit to these muffins?
Yes, you can add chopped nuts or dried fruit to these muffins if you like. Chopped walnuts or pecans, raisins, or dried cranberries would be good additions.
Can I taste the courgette in the muffins?
Typically, the taste of courgette is very subtle and is usually not distinguishable, especially with the dominant flavour of chocolate in these muffins.
Can I use yellow courgettes instead of green?
Yes, yellow courgettes can be used in place of green ones. The taste and texture are similar, so it won't affect your muffins significantly.
Do I need to peel the courgettes first?
Peeling is not necessary. The skin of courgettes is soft and adds extra fibre to your muffins.
😋Related recipes
More muffin recipes you might like;
More courgette recipes
Don't forget to subscribe to the newsletter to stay up to date with what's cooking in the Effortless Foodie kitchen! You can also follow me on Facebook, Twitter, and Instagram too!
Recipe
Chocolate Courgette Muffins
Moist and rich, these chocolate courgette muffins are the perfect way to use up a glut of courgettes from your garden or allotment.
Equipment
Kitchen Scales

Measuring Jug

Measuring Spoons

Mixing Bowl

Wooden Spoon

Cheese Grater

12 Hole Muffin Tin

Muffin Cases
Ingredients
140

g

Caster Sugar

180

g

Plain Flour

20

g

Cocoa Powder

1

teaspoon

Bicarbonate of Soda

100

ml

Natural Yogurt

2

Eggs

140

g

Butter

melted and cooled

250

g

Courgette

grated and excess water squeezed out (ungrated weight)

100

g

Milk Chocolate Chips
Instructions
Preheat the oven to 190°c (170° fan/ 375F/ Gas 5) and line a 12 hole muffin tin with paper cases.

Mix together the caster sugar, plain flour, cocoa powder and bicarbonate of soda in a large bowl.

140 g Caster Sugar,

180 g Plain Flour,

20 g Cocoa Powder,

1 teaspoon Bicarbonate of Soda

Whisk the yogurt, eggs and melted butter together in a bowl, until combined.

100 ml Natural Yogurt,

2 Eggs,

140 g Butter

Gently mix the wet ingredients into the dry ingredients, being careful not to over mix.

Fold in the grated courgette and chocolate chips.

250 g Courgette,

100 g Milk Chocolate Chips

Spoon the mixture into 12 muffin cases.

Bake for 18 minutes. Cool on a wire rack once cool enough to handle.
Notes
Please note the weight of courgettes stated in the ingredients list is the ungrated, un-squeezed weight. It will equate to about 2 medium courgettes. Freezing: The muffins can be frozen for up to 3 months. Nutrition: The nutritional information provided is approximate and is calculated using online tools. Information can vary depending on various factors.
Nutrition Facts
Chocolate Courgette Muffins
Amount per Serving
% Daily Value*
* Percent Daily Values are based on a 2000 calorie diet.
Tried this recipe?
Snap a pic and tag @effortlessf00d on Instagram or Twitter