Looking for a delicious and easy muffin recipe to make? Look no further than these simple blackberry muffins bursting with juicy foraged blackberries.
The moist and tender muffins have a sweet and zesty lemon glaze and are just perfect for snacks, picnics, and grab-and-go breakfasts! You might also like my blackberry crumble bars too!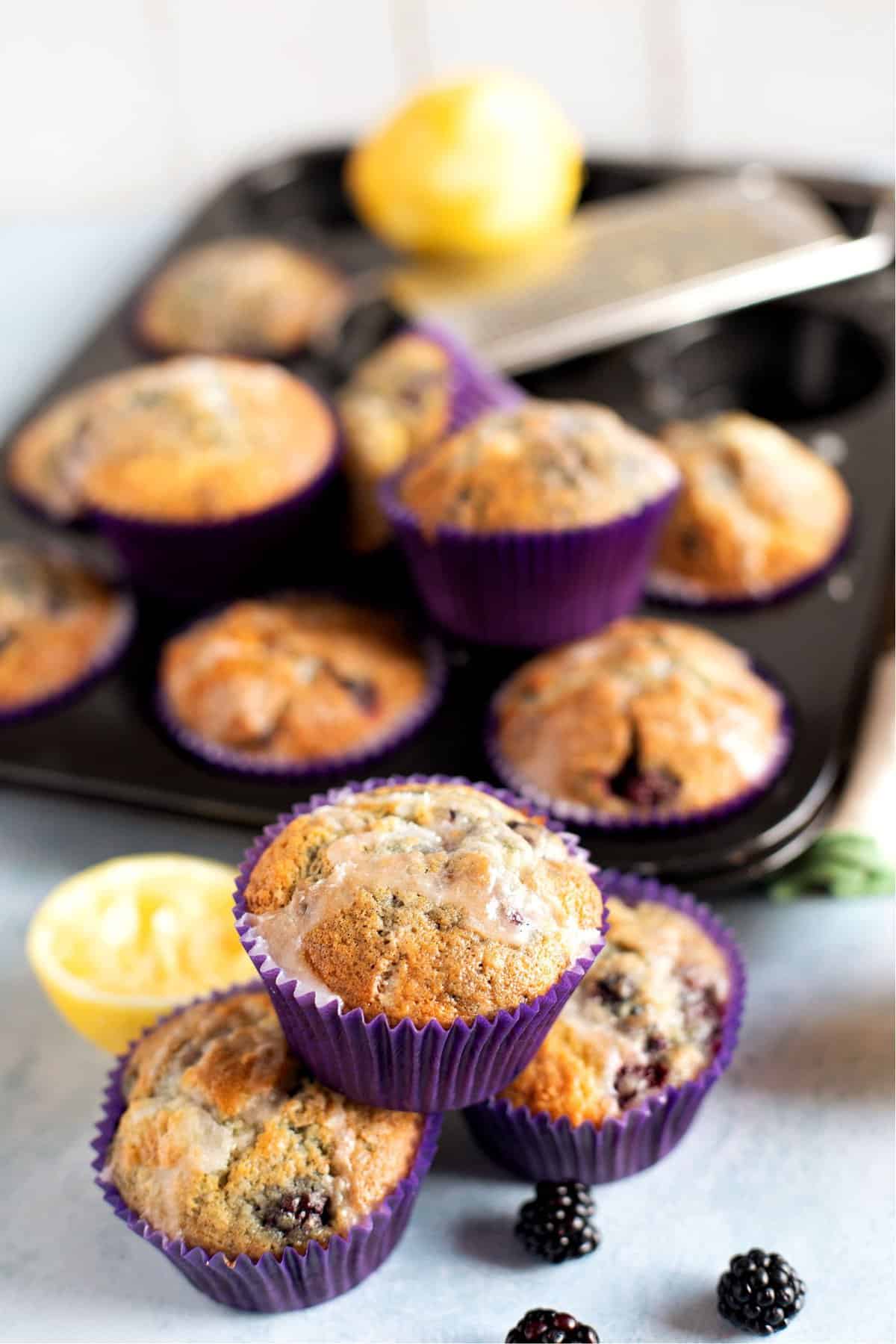 The kids and I adore blackberry picking, and we make all sorts of delicious bakes, bakes, and desserts with them, including apple and blackberry turnovers, blackberry cobbler, and blackberry crumble. But these easy blackberry muffins are one of my favourite blackberry recipes!
Love muffins? Why not try these cinnamon-spiced apple muffins next!
Jump to:
✔️ Why should you try it?
When blackberries are in season, there's no better way to celebrate their abundance than by making these muffins. Using fresh, ripe blackberries ensures that you're using the best produce available, resulting in the best flavoured muffin.
This recipe is incredibly simple and straightforward, making it an ideal choice for both experienced bakers and those just starting their baking journey. With minimal effort and ingredients, you can whip up a batch of delicious muffins in no time.
Blackberry muffins are a versatile snack that can be enjoyed at any time of day. Whether it's a delicious breakfast on-the-go, a delightful afternoon treat with a cup of tea, or a comforting dessert after dinner, these muffins fit the bill perfectly.
They are freezer friendly too, so you can easily make a double batch and freeze some for later, ensuring that the scrumptious taste of blackberries can be enjoyed all year round.
🥘 Ingredients
Blackberries - the star of the show in these moist and fluffy muffins. I love their beautiful sweet scent.
Lemon - the zest is used in the muffin batter and the juice is used to make the glaze.
I use my basic muffin recipe as the base for these muffins, which consists of plain flour, bicarbonate of soda, and caster sugar, combined with melted butter, eggs, and natural yogurt. It's such an easy recipe to remember and can be used in so many different ways, like my chocolate courgette muffins, cinnamon-spiced mincemeat muffins, rhubarb muffins, banana & peanut butter muffins, and lemon drizzle muffins.
🥄 Equipment
Muffins are so easy to make. All you need is a bowl and wooden spoon, a 12-hole muffin tin, and 12 muffin cases.
🔪 Instructions
The recipe card with ingredient quantities and detailed instructions can be found at the bottom of the post
One: Place the dry ingredients in a large mixing bowl.
Two: Whisk the wet ingredients together in a jug.
Three: Gently mix the wet ingredients into the dry ingredients then fold in the blackberries and lemon zest. The secret to a lovely muffin is not to over-mix the batter.
Four: Spoon the batter into 12 muffin cases and bake in the oven for 16-18 minutes.
Five: Whisk the icing sugar and lemon juice together before drizzling on top of the muffins. Allow to cool before serving.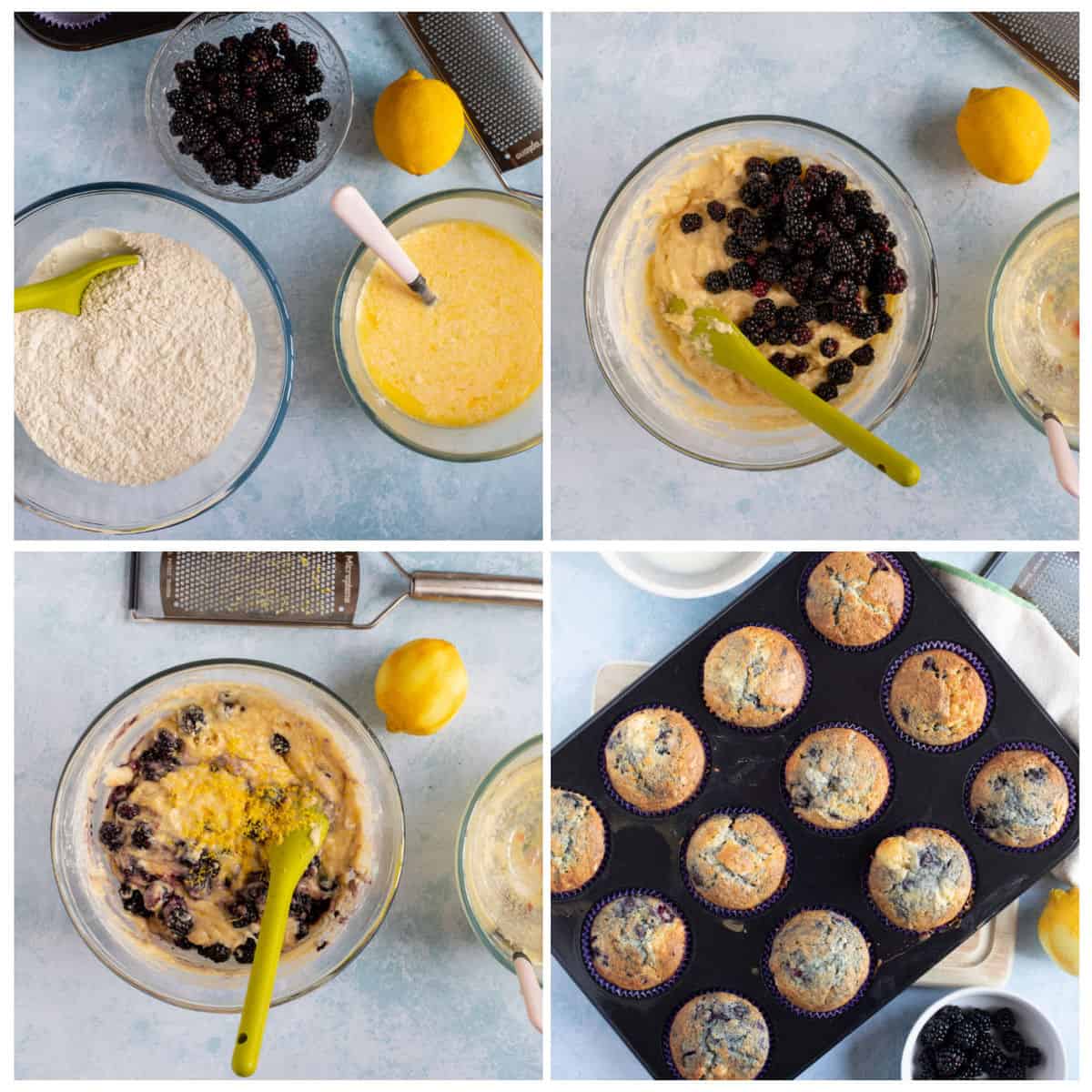 💭 Top tips
Muffin batter is delicate, and over-mixing can lead to tough and dense muffins. When combining the wet and dry ingredients, gently fold them together instead of vigorously beating them. A few lumps in the batter are perfectly fine and won't affect the delicious end result.
While fresh blackberries are fantastic, frozen ones work just as well for making muffins. If using frozen berries, do not thaw them before adding them to the batter; this helps prevent excess moisture and keeps the berries from bleeding into the batter.
To achieve that lovely, domed muffin top, try this clever temperature trick. Preheat your oven 10 degrees Celsius higher than the actual baking temperature. As soon as you place the muffins in the oven, lower the temperature to the recommended level. This method encourages quick and even rising, resulting in picture-perfect muffin tops every time.
Keep a close eye on your muffins while they're in the oven. Baking times can vary based on oven models and muffin size. Insert a toothpick into the center of a muffin; if it comes out clean or with a few crumbs clinging to it (but no wet batter), the muffins are ready to be taken out.
🍴 Serving suggestions
These easy blackberry and lemon muffins are great for after-school snacks, grab-and-go breakfasts, and even desserts (custard or clotted cream are great accompaniments).
The muffins are easily transportable too, so they're a great choice for picnics, beach BBQs, and charity bake sales.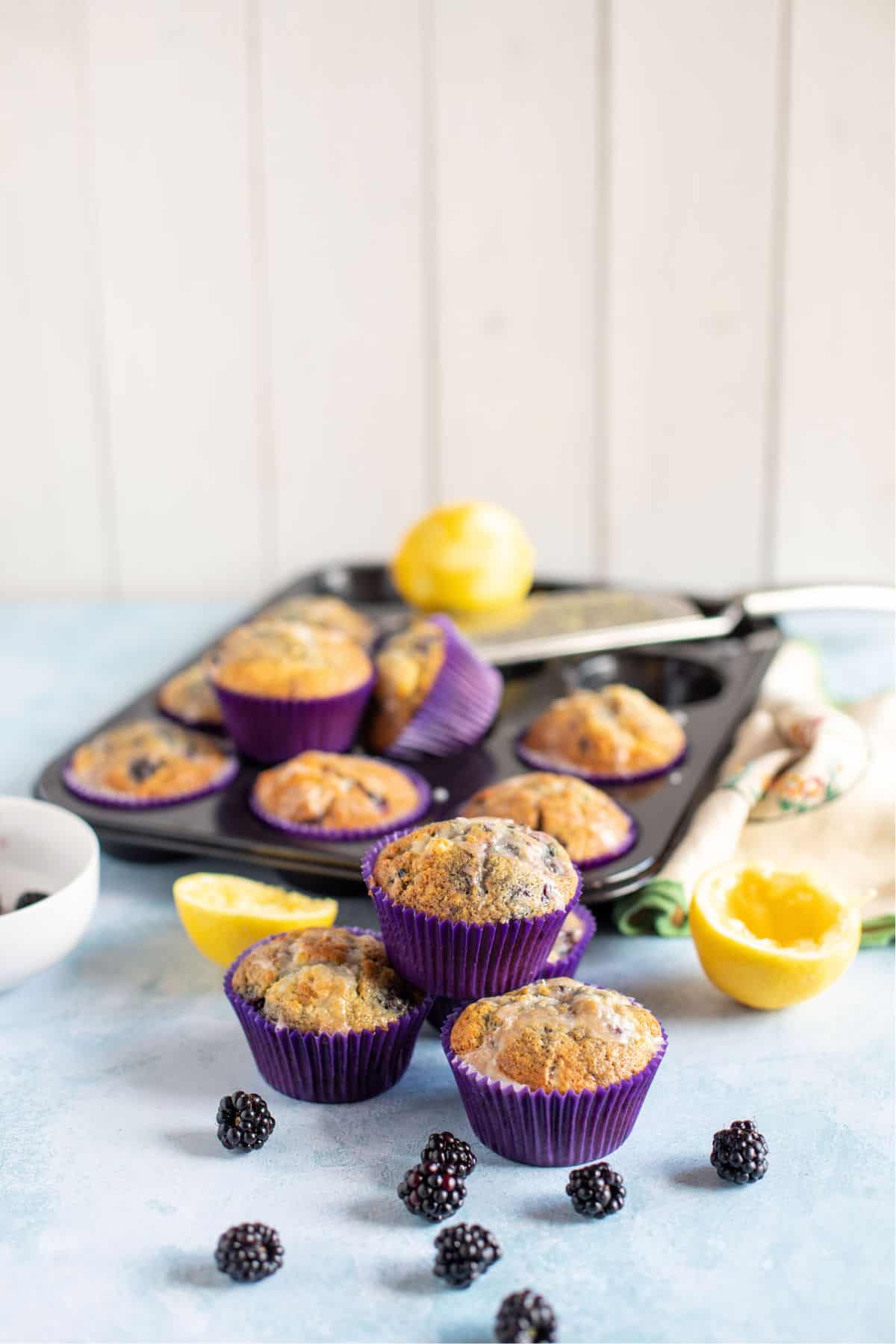 📖 Variations
For a nutty and aromatic variation, stir in some chopped almonds into the muffin batter. The nutty crunch pairs well with the juicy blackberries, adding an extra layer of texture and flavour.
Boost the nutritional value of your muffins by adding rolled oats to the batter. The oats provide a wholesome, hearty texture and a subtle nutty taste that complements the blackberries wonderfully.
Create a luxurious cream cheese swirl by layering spoonfuls of softened cream cheese on top of the muffin batter before baking. Swirl it gently with a toothpick for a marbled effect that adds a creamy and tangy dimension to the muffins.
Embrace the tropical goodness by incorporating shredded coconut into the muffin batter. The coconut's subtle sweetness pairs well with the blackberries, transporting your taste buds to a sunny paradise.
Elevate your muffins with a delectable cinnamon streusel topping. Mix together butter, flour, sugar, and a dash of cinnamon, then sprinkle it generously over the muffins before baking for a crunchy and spiced finish.
🥡 Storage
The muffins will keep in an airtight container for up to 3 days.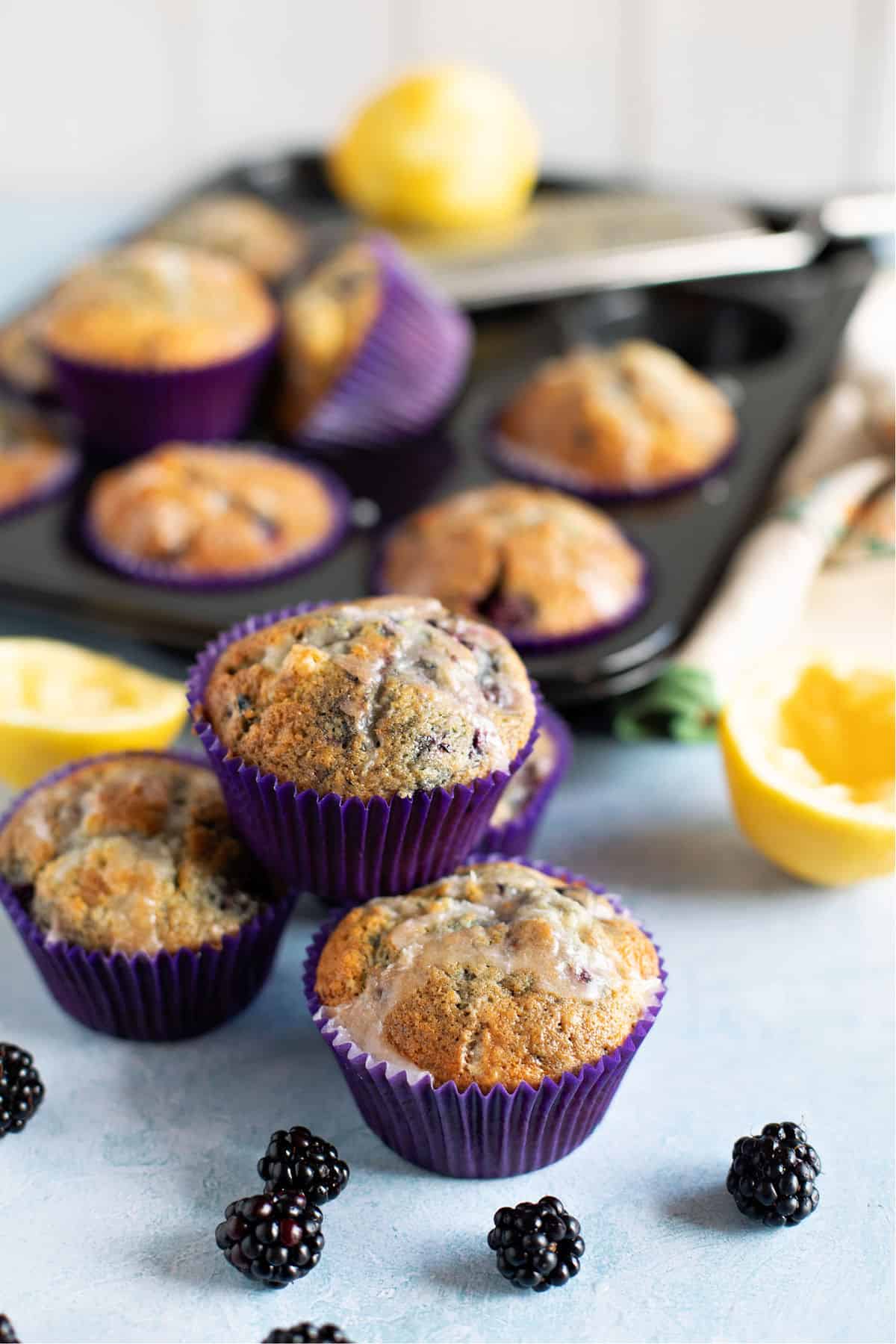 🧊 Suitable for freezing?
These blackberry muffins are freezer-friendly!
Place the cooked and cooled muffins into an airtight container, and separate each layer with baking paper to prevent them from sticking together. Freeze for up to 3 months.
Defrost before serving.
❓ Frequently asked questions
Can I use frozen blackberries in the muffin recipe?
Yes, you can use frozen blackberries for making the muffins. Simply add them to the batter while they are still frozen, and avoid thawing them beforehand to prevent excess moisture.
Can I substitute other fruits for blackberries?
Absolutely! While blackberries work wonderfully in this recipe, you can experiment with other fruits like blueberries, raspberries, or chopped strawberries for a delicious twist.
How do I ensure my muffins have a nice, moist texture?
Be cautious not to overmix the batter. Overmixing can result in tough muffins. Mix the wet and dry ingredients gently until just combined to maintain a moist and tender texture.
Are there any egg substitutes for this recipe?
If you need an egg-free version, you can try using applesauce, mashed banana, or a commercial egg replacer. Keep in mind that the texture and taste may vary slightly.
😋Related recipes
More blackberry recipes to try;
You might also like my blackcurrant muffins when blackcurrants are in season!
Don't forget to subscribe to the newsletter to stay up to date with what's cooking in the Effortless Foodie kitchen! You can also follow me on Facebook, Twitter, and Instagram too!
Recipe
Easy Blackberry Muffins Recipe
Indulge in these tasty blackberry muffins with a zingy lemon glaze! Perfect for blackberry season, this easy recipe is a must-try treat.
Equipment
Kitchen Scales

Measuring Spoons

Measuring Jug

Mixing Bowl

Wooden Spoon

12 Hole Muffin Tin

Muffin Cases

Microplane Grater
Ingredients
140

g

Caster Sugar

200

g

Plain Flour

1

teaspoon

Bicarbonate of Soda

100

ml

Natural Yogurt

140

g

Butter

melted

2

Eggs

beaten

150

g

Blackberries

1

Lemon

zest only
For the glaze
100

g

Icing Sugar

1

Lemon

juice of
Instructions
Preheat the oven to 190°c (170 fan/ 375F/ Gas 5) and line a 12 hole muffin tin with muffin cases.

Place the dry ingredients in a large mixing bowl

140 g Caster Sugar,

200 g Plain Flour,

1 teaspoon Bicarbonate of Soda

Whisk the wet ingredients together in a jug.

100 ml Natural Yogurt,

140 g Butter,

2 Eggs

Gently mix the wet ingredients into the dry ingredients then fold in the blackberries and lemon zest.

150 g Blackberries,

1 Lemon

Spoon the batter into the muffin cases and bake in the oven for 16-18 minutes.

Whilst the muffins are in the oven make the lemon glaze. Put the icing sugar in a bowl and whisk in the juice of 1 lemon. Add a few teaspoons of lemon juice at a time. You might find that you don't need all of the lemon juice. It should be a thin glossy consistency, perfect for drizzling. Drizzle over the cooling muffins and allow to set.

100 g Icing Sugar,

1 Lemon
Notes
Freezing: The muffins can be frozen for up to 3 months. Nutrition: The nutritional information provided is approximate and is calculated using online tools. Information can vary depending on various factors.
Nutrition Facts
Easy Blackberry Muffins Recipe
Amount per Serving
% Daily Value*
* Percent Daily Values are based on a 2000 calorie diet.
Tried this recipe?
Snap a pic and tag @effortlessf00d on Instagram or Twitter