Golden Syrup Cake is a classic teatime treat here in the UK, and one that has been enjoyed for generations!
The Golden Syrup is what gives this loaf cake its distinctive flavour and moist, sticky texture. It's a simple yet delicious cake that's perfect for any occasion.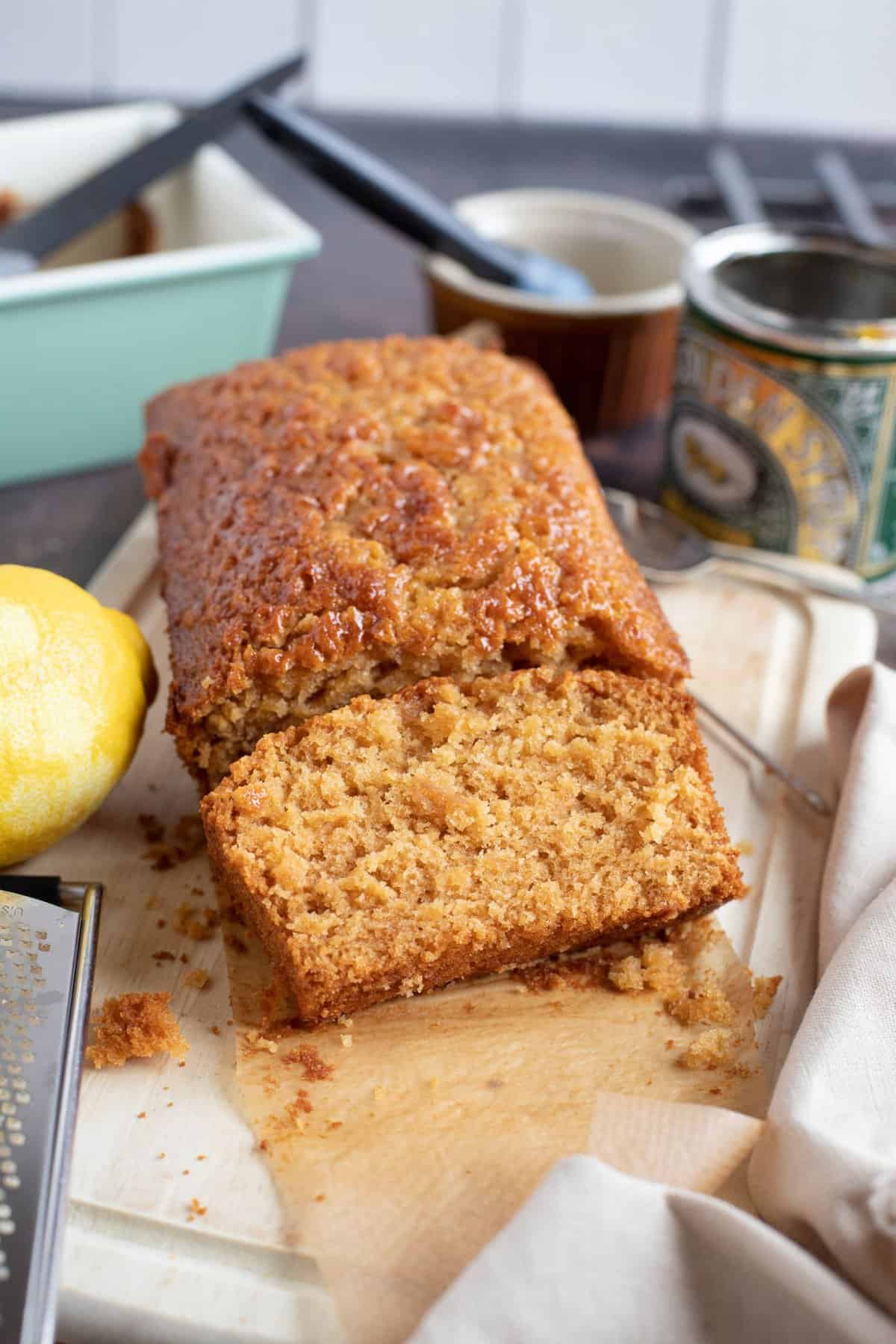 This delicious syrup cake with a sweet sticky glaze is an easy and perfect treat for a mid-afternoon snack or an after-school treat for the kids!
You can even serve it as a simple (but very indulgent) dessert with homemade honeycomb ice cream.
👩‍🍳 Love loaf cakes? Try my marzipan loaf cake, apple loaf cake, and blackcurrant loaf cake too!
Jump to:
✔️ Why should you try it?
This Golden Syrup Loaf Cake has a rich, sweet, and buttery flavour that's hard to resist. It's a classic sweet treat that's perfect for any occasion.
The recipe is simple and straightforward, making it a great choice for beginner bakers.
The Golden Syrup bread can be served on its own or with a variety of toppings, such as whipped cream, fresh fruit, or a drizzle of caramel sauce.
⭐ Five Star Reader Reviews
I've made this twice now and it's been so well received. For such a simple recipe the results are amazing with a lovely textured sponge, full of flavour and with the added bonus of keeping fresh for days. The second time I added sultanas and some chopped pecans on the top and served warm with your homemade honeycomb ice cream recipe …..absolutely amazing. Thank you so much. LINDA ⭐⭐⭐⭐⭐
I tried this recipe after not being too impressed with another syrup cake recipe I had used in the past. I am so pleased I did because it is amazing and by far the nicest syrup cake we have had! We really loved the fluffy soft texture and depth of the syrup flavour. My children loved it with custard and it made a lovely surprise dessert for them today. It is so gorgeous on the day it was baked so I can't even imagine how much more incredible it will be after it has rested a day or so (it probably won't survive long enough to find out though!). I made the recipe as written except for using soft brown sugar instead of caster. It cooked perfectly in the time stated. LOUISE ⭐⭐⭐⭐⭐
🥘 Ingredients
Golden Syrup - the star ingredient in this loaf cake, bringing a delicious caramel sweetness to the cake and moist crumb.
Butter - unsalted butter is best for this syrup loaf cake.
Caster Sugar - alternatively, light brown sugar, which would give the cake a darker colour.
Egg - one large egg is needed for the recipe.
Milk - whole milk gives a lovely richness, but if you're watching the calories then semi-skimmed can be used instead.
Self Raising Flour - helps the syrup loaf cake rise. Alternatively, you could use plain flour with baking powder mixed in. You would need 3 teaspoon of baking powder for 200g of self-raising flour.
Lemon Zest - gives the cake a lovely citrus zing.
🔪 Instructions
The recipe card with ingredient quantities and detailed instructions can be found at the bottom of the post
One: Place the golden syrup, butter, and sugar in a large saucepan and place it on a medium heat until melted.
Two: Take the pan off the heat and leave it to cool for a few minutes before mixing in the egg and milk.
Three: Finally, mix in the self-raising flour and lemon zest. Small lumps may form, and you may find using a whisk helpful to make the batter as smooth as possible.
Four: Pour the cake batter into a 2lb loaf tin, lined with baking paper and bake for 50 minutes to 1 hour in a preheated oven. Brush on the golden syrup glaze while the cake is still warm.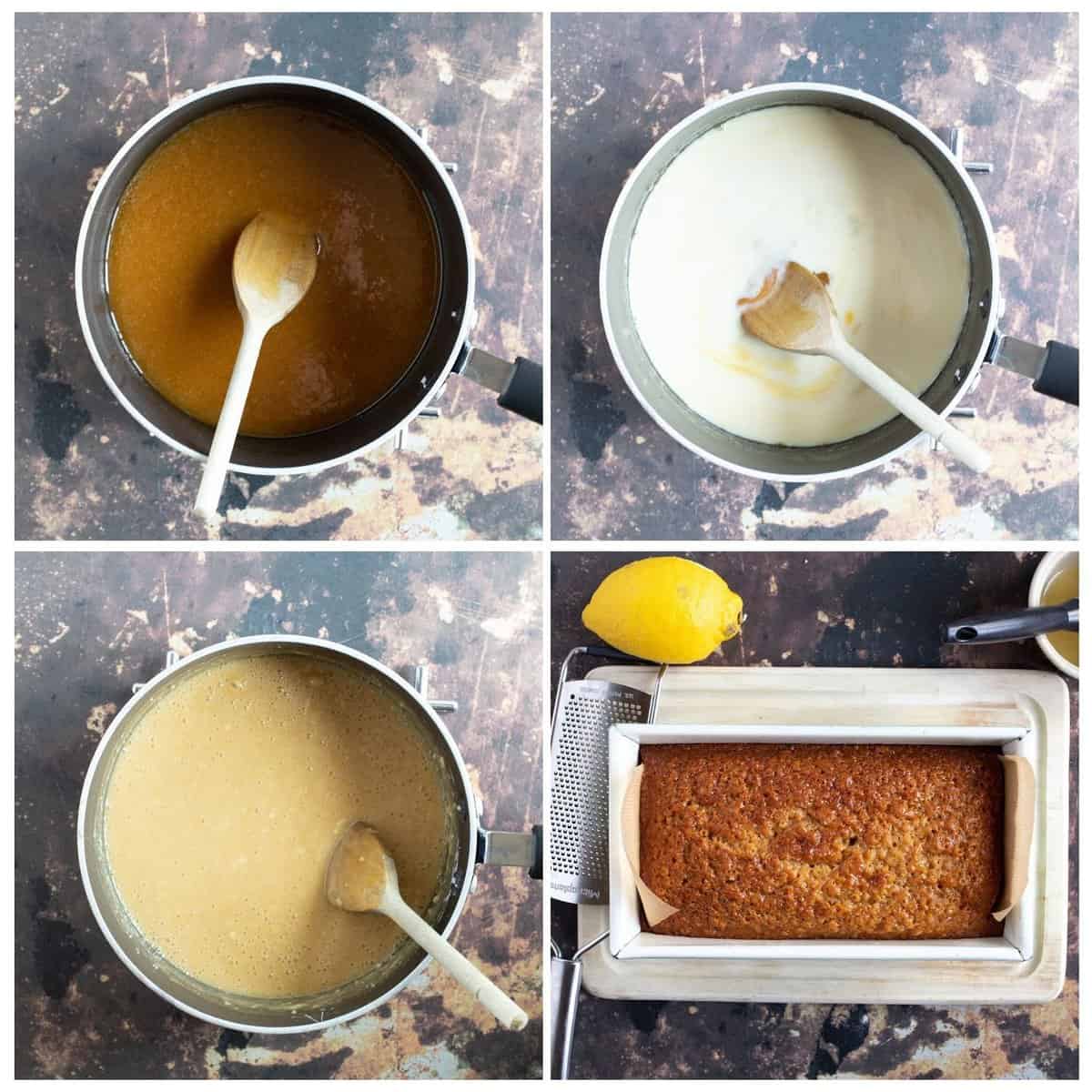 💭 Top tips
Use a whisk to stir in the flour. It will help get rid of any small lumps and create a smoother batter.
Run a round-edged knife around the edge of the cake once you have removed it from the oven, but leave it in the loaf tin until it has completely cooled.
🍴 Serving suggestions
Thick slices of the Golden Syrup loaf cake can be served at room temperature with a cup of tea or a glass of milk.
The syrup cake can also be served warm for pudding with homemade honeycomb ice cream or creamy custard.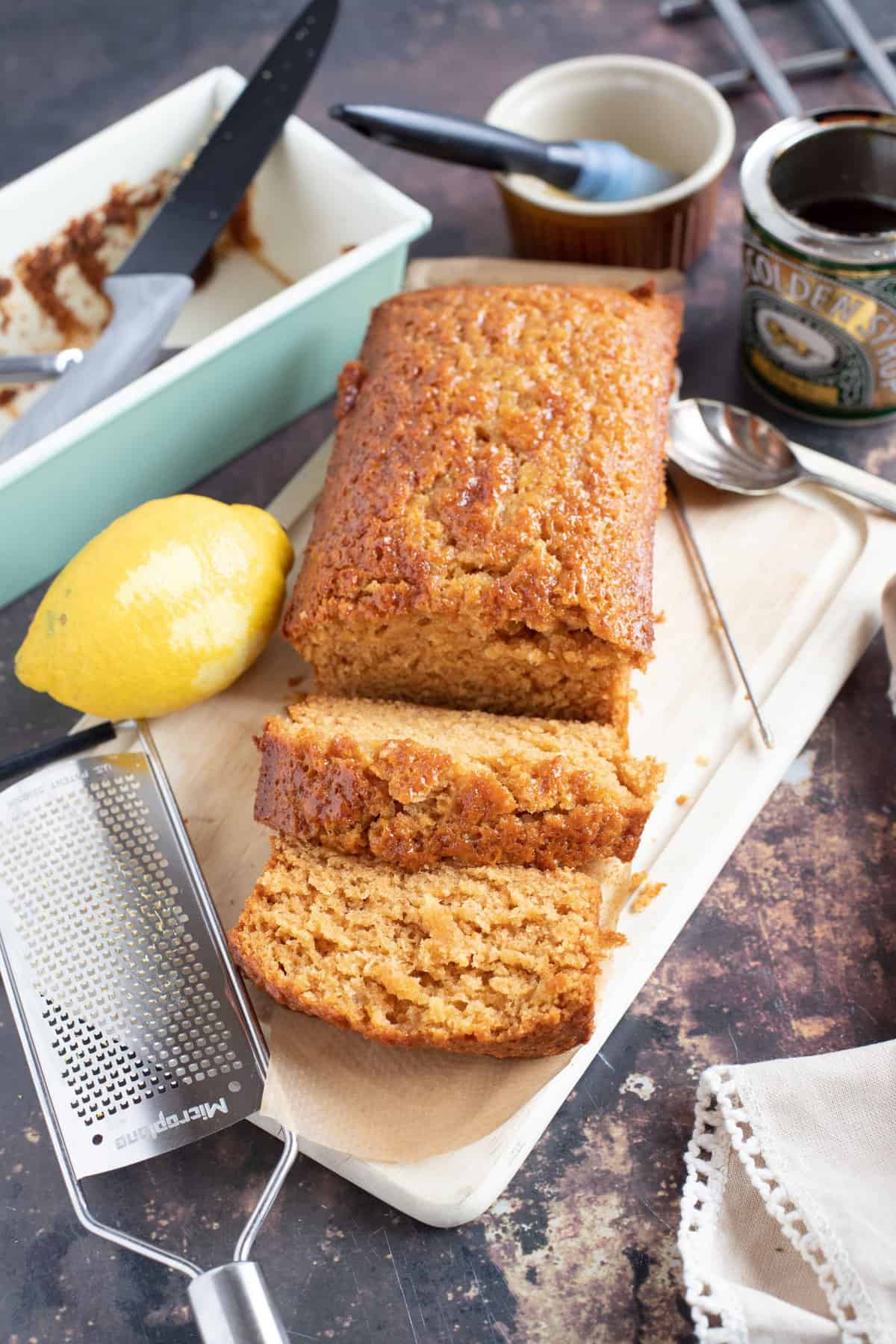 📖 Variations
Use orange zest instead of lemon zest to flavour the loaf cake.
Light brown sugar can be used instead of caster sugar, which will result in a darker-coloured cake.
Add 1-2 teaspoons of ground ginger to the batter for a warm and spicy flavour. You can also add some chopped crystallized ginger for extra texture.
Add a handful of chopped walnuts for added crunch and texture. Pecans also work well.
🥡 Storage
Store - if you plan to eat the syrup loaf cake within 4-5 days, you can store it at room temperature in an airtight container or cake tin.
Freeze - for up to 3 months.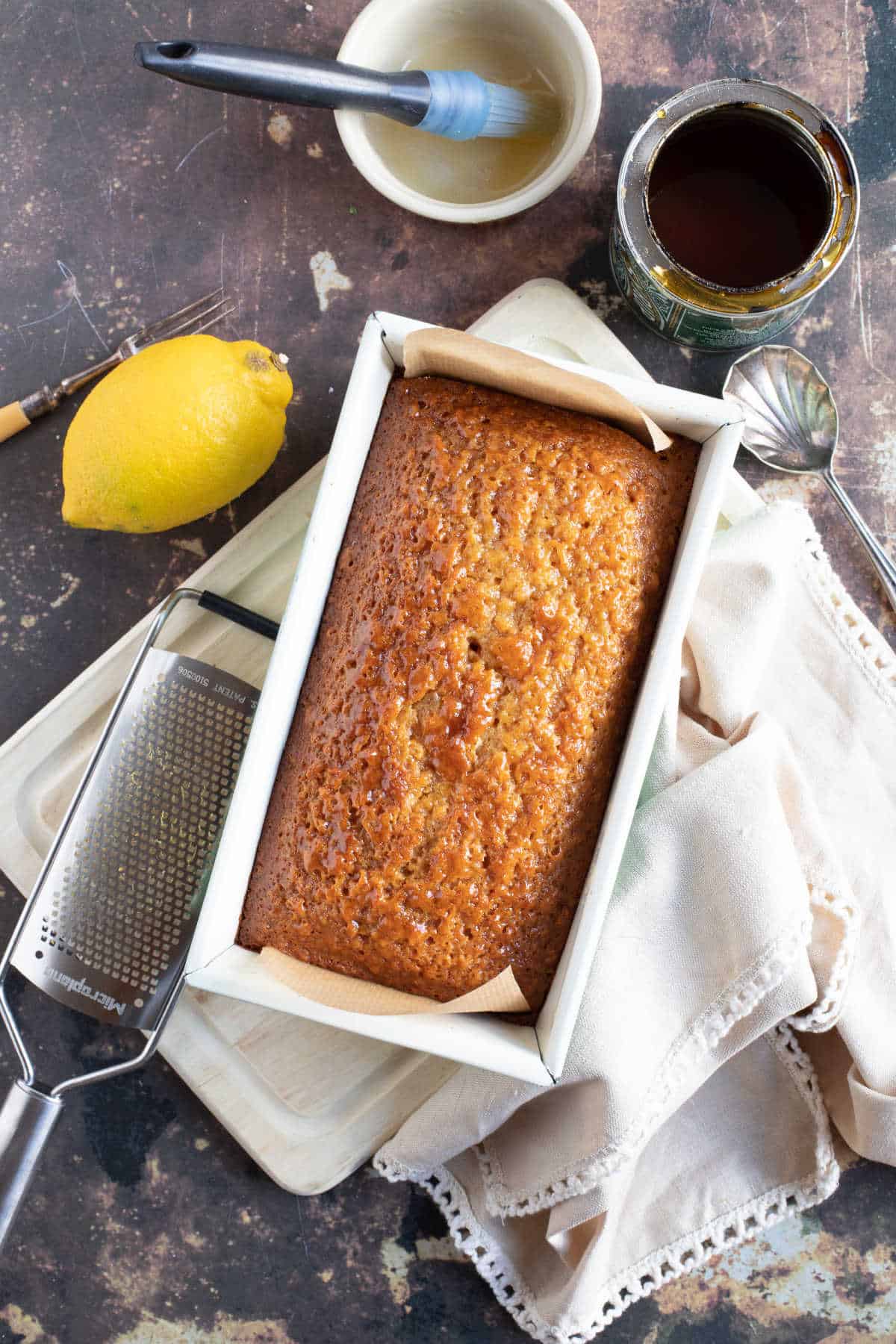 ❓ FAQS
What is Golden Syrup?
Golden Syrup is a thick, amber-colored syrup made from sugar cane. It is commonly used as a sweetener in baking and cooking, and has a rich, sweet flavour with notes of caramel and butterscotch. Golden syrup is a popular ingredient in British and Australian cuisine and is often used in desserts such as treacle tart, flapjacks, and gingerbread. It can also be used as a topping for pancakes, waffles, and ice cream.
What can I use instead of Golden Syrup?
Runny honey is the best substitute for golden syrup. Maple syrup is too runny.
Can I add nuts or dried fruit to Golden Syrup cake?
Yes, you can add chopped nuts or dried fruit to the batter for extra texture and flavour. Some popular options include pecans, walnuts, raisins, sultanas, or dried cranberries.
Can I make Golden Syrup cake ahead of time?
Yes, you can make golden syrup cake ahead of time and store it in an airtight container for up to 3 days or freeze it for use at a later date.
Can you make Golden Syrup at home?
Golden Syrup is a common ingredient in many British recipes and is relatively inexpensive in the UK, but this may not be the case in other parts of the world. If you live in a place where Golden Syrup is not readily available, you can make your own using sugar, water, and a slice of lemon, or substitute it for honey or corn syrup.
😋Related recipes
Some more easy loaf cakes to try:
🍽️ More family-friendly baking recipes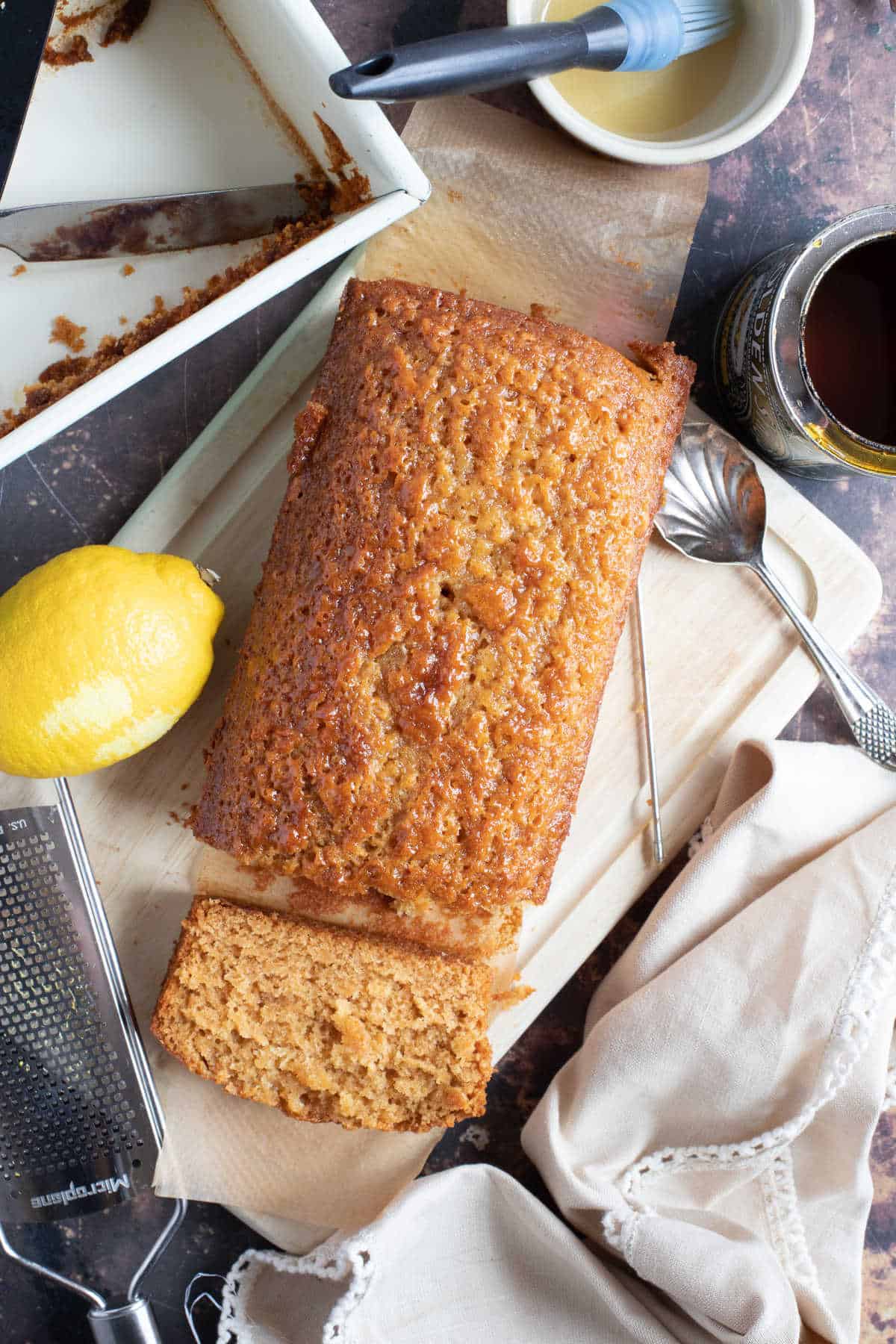 Don't forget to subscribe to the newsletter to stay up to date with what's cooking in the Effortless Foodie kitchen! You can also follow me on Facebook, Twitter, and Instagram too!
Recipe
Easy Golden Syrup Cake Recipe
Golden syrup cake is a classic teatime treat here in the UK and one that has been enjoyed for generations! The golden syrup is what gives this loaf cake its distinctive flavour and moist, sticky texture.
Ingredients
200

g

Golden Syrup

100

g

Butter

100

g

Caster Sugar

1

Egg

150

ml

Milk

200

g

Self Raising Flour

1

Lemon

zest only

3

tablespoon

Golden Syrup
Instructions
Preheat the oven to 160°c (140 °fan/ 325°F/ Gas 3) and line a 2lb loaf tin with baking parchment.

Place the golden syrup, butter and caster sugar in a pan and melt it on a low-medium heat. Remove from the heat and leave to cool for a few minutes.

200 g Golden Syrup,

100 g Butter,

100 g Caster Sugar

In a small jug, whisk together the egg and milk and then beat it into the cooled syrup mixture.

Mix in the flour and lemon zest. You may want to use a whisk to make sure the batter is as smooth as possible (don't worry if a few small lumps remain).

200 g Self Raising Flour,

1 Lemon

Pour the batter into the tin and bake for 50 minutes to 1 hour (until a skewer comes out clean). Immediately brush the top of the loaf cake with the extra golden syrup glaze and leave to cool completely.

3 tablespoon Golden Syrup
Notes
The nutritional information provided is approximate and is calculated using online tools. Information can vary depending on various factors, but we have endeavoured to be as accurate as possible.
Nutrition Facts
Easy Golden Syrup Cake Recipe
Amount per Serving
% Daily Value*
* Percent Daily Values are based on a 2000 calorie diet.
Tried this recipe?
Snap a pic and tag @effortlessf00d on Instagram or Twitter